A Personalized Gym at Blueprint Fitness:
After Kevin proposed to me last summer in Charleston, I knew there would be a moment in the months approaching our upcoming wedding that I would decide to kick my poor eating habits for a healthier lifestyle and really start our new life together on the right foot.  While I may not be a health fanatic 100% of the time (let's face it, I love chocolate cake WAY too much to not occasionally indulge myself), the turning point though in my healthier lifestyle focus was when I decided to join a new gym.  I was specifically looking for something more personalized than just paying monthly dues to a big box health club to use what limited knowledge I had to do workouts that either stopped making a difference or that I got bored of quickly.
I stumbled upon Blueprint Fitness when I was standing in line behind some really fit guy at Chipotle who was wearing a shirt that said "Blueprint Fitness" and I was intrigued.  After checking out their website, I realized I could try my first class free, so I showed up and worked my butt off!  The workout was so well planned and the instructors were just the perfect blend of motivating and educated.  It was the perfect amount of personal attention that you would get from a personal gym instructor one-on-one, but for a fraction of the price.  I was sold – so I joined in February 2014!
The gym's name holds true in that each member starts out with a personalized assessment or Functional Movement System, "FMS", that allows the instructors to create a personalized workout plan specific to your individual goals. Whether it's weight loss, toning, muscle building, flexibility, or mobility, the "blueprint" that each person receives shows you which classes to attend and how often you should be attending them.  But the personalization doesn't stop there, because depending on what areas of the FMS you ranked stronger or weaker in, the workouts are adjusted to cater to your level in the program.  I'll be honest and say that I've been stuck in the "negative pushup" progression for a couple weeks because I couldn't even do a single pushup – but I'm almost there!  The unique workouts and stretches really push me beyond a typical gym. I've learned to use kettle bells (and not in the rushed I have to finish this set in 1 minute cross fit kind of way), but in the correct way that I've been instructed so I don't set myself up for injury down the road.  Blueprint Fitness is all about learning how to move your body correctly, then moving it often.
So here are a couple photos of me prior to a workout a week ago. I'm starting to see some definition in my arms for sure, but I'm not looking to become some huge bulky girl… Just someone who is fit, healthy and strong.  I'm feeling pretty darn good! And all these workouts are definitely encouraging me to eat healthier too. I mean come on, I'm not going to have the metabolism of a teenager all my life (I already know it!) and if I don't start enforcing better eating habits, I'm sure that chocolate cake I love so much will start showing around my hips and thighs that much sooner!
Another pic of the gym….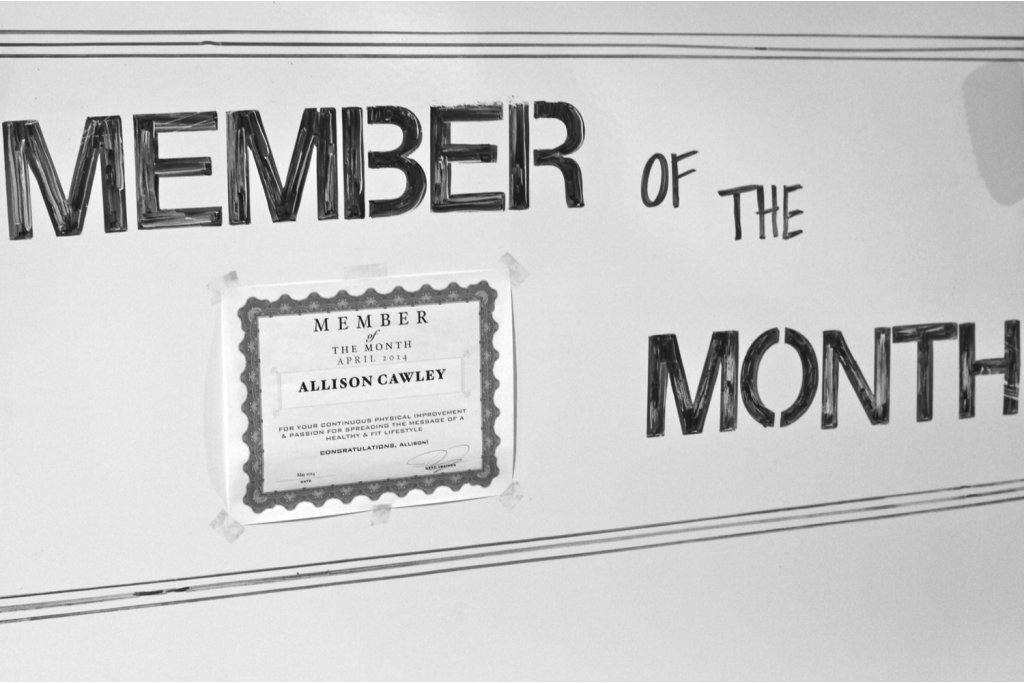 AND….  My award for "Member of the Month" for April 2014!!! I couldn't believe it when they announced that I was the Member of the Month, but I was honored to receive it and felt like my hard work was validated! 🙂
I took some more revealing photos of myself in hot shorts and a sports bra the first week I signed up for the gym, and I'm planning to show you the most recent update soon… so don't forget to come back and check out the site for future blog posts!  I've also just started trying out the kickboxing classes, so I'll be sure to let you know how those kick my butt!  If you are in Atlanta and are interested in a new spot to workout, I highly recommend checking out Blueprint Fitness in west midtown – It's the best workout in Atlanta.  And hey… don't forget to say hi if you see me there! If you check out their website, you might even catch a glimpse of me in some of their promotional pics/videos!
What's your favorite place to workout?  Do you believe in a personal trainer or are you a lone wolf?