Bringing Italian Luxury to Atlanta with Etro
Last month I had the opportunity to co-host an incredibly motivating and kick-a** event with some of my favorite fellow bloggers at Corso Coffe in Atlanta.  I came together with Kale Me Kelly and Eating With Erica to launch the first #GIRLTALKSERIES event which featured Craft Box Girls CEO and Founder, Lynn Lilly, as our guest speaker where she shared all sorts of tips and tidbits of invaluable knowledge on "need-to-know" entrepreneur and blogger info!
If you recall from my original event recap, I had the distinct pleasure of being outfitted in a stunning Etro look from their new fall collection, so I wanted to give you a behind the scenes look at what went into dressing the three of us for the event and give you a closer look at what I ended up going with!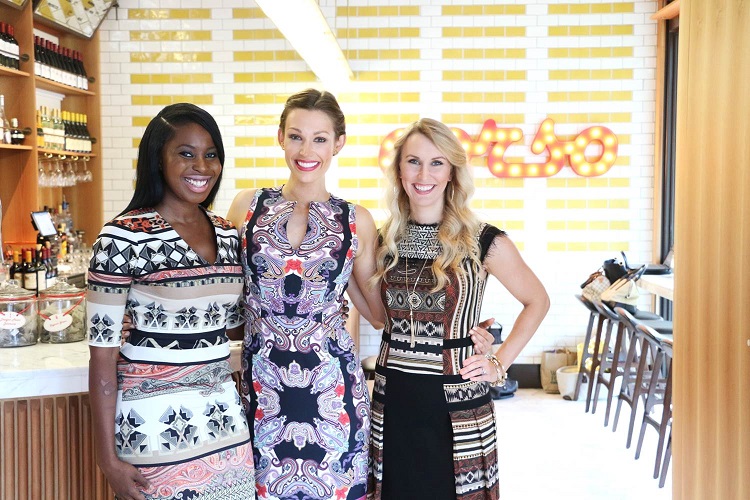 We arrived at Etro in the shops at Buckhead a few days before our event to grab a sneak peek of their new fall collection and puruse the beautiful garmets that decorated the walls and screamed to me, "Take me home with you!"
If you're not familar with Etro, it is a luxury Italian brand created by Gerolamo "Gimmo" Etro in 1968 focused on traditional quality with a contemporary twist through daring colors and innovative combinations.
Starting as a textile company, Etro's signature Paisley pattern  transformed handbags, suitcases, and overnight bags in to the ultimate style statement in 1984, and their home collection launched a year later.  In 1988 their Man and Woman pret-a-porter ranges expand and their Milan flagship store opens to reflects the changing brand.  And over the years the brand has grown into the international luxury brand it is so well known as today.

After we arrived, Todd and the rest of the Etro team treated us to some bubbly, and began to share some of their favorite looks of the new collection.
We walked the rest of the store and viewed the men's and women's collections.  Meanwhile I was mentally planning which pieces I wanted to see in my closet… and then immediately wondering how I could actually make that happen. Note: I'm still working on that one!

It doesn't hurt to have a great looking group of guys with immaculate taste to help you choose your attire 😉
I was so smitten with everything on the mannequin below… I almost stole her entire outfit.  Unfortunately, it's still 90 degrees in Atlanta this time of year and I think it might not have been the right fit to break out the fur just yet.

After viewing all the vibrant and innovative designs, I had a tough time selecting which few outfits I wanted to try on!
If you're following me on Instagram (if not, you're totally missing out on the good stuff & should rectify that by clicking here!), or Peachfully Chic on Facebook, you'll remember I narrowed my choices down to these four options and asked for your help in voting: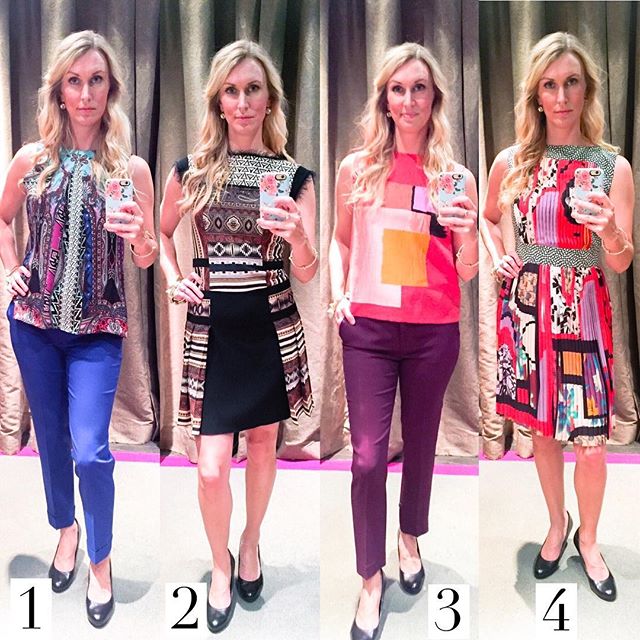 And a HUGE THANK YOU to everyone who did vote for their favorite look!   It was definitely a tough decision.
I loved the cobalt pants and flouncy blouse from no.1, the colorblocking on no.3 was on point!, and the pleats, pattern, and fit of no.4 was perfect… but as you now know, I ended up going with look no.2  
No. 2 was a Short-Sleeved Dress with a great combination of prints and neutrals and I immediately fell in love with the cut.  I thought the pleated sides and back were absolutely darling and the print gave it a bit of an tribal feel without being over the top.
Short-Sleved Etro Dress ♦  Charming Charlie Bracelets  ♦ Hoop Earrings  ♦  Elie Tahari Mesh Heels (similar here & here) ♦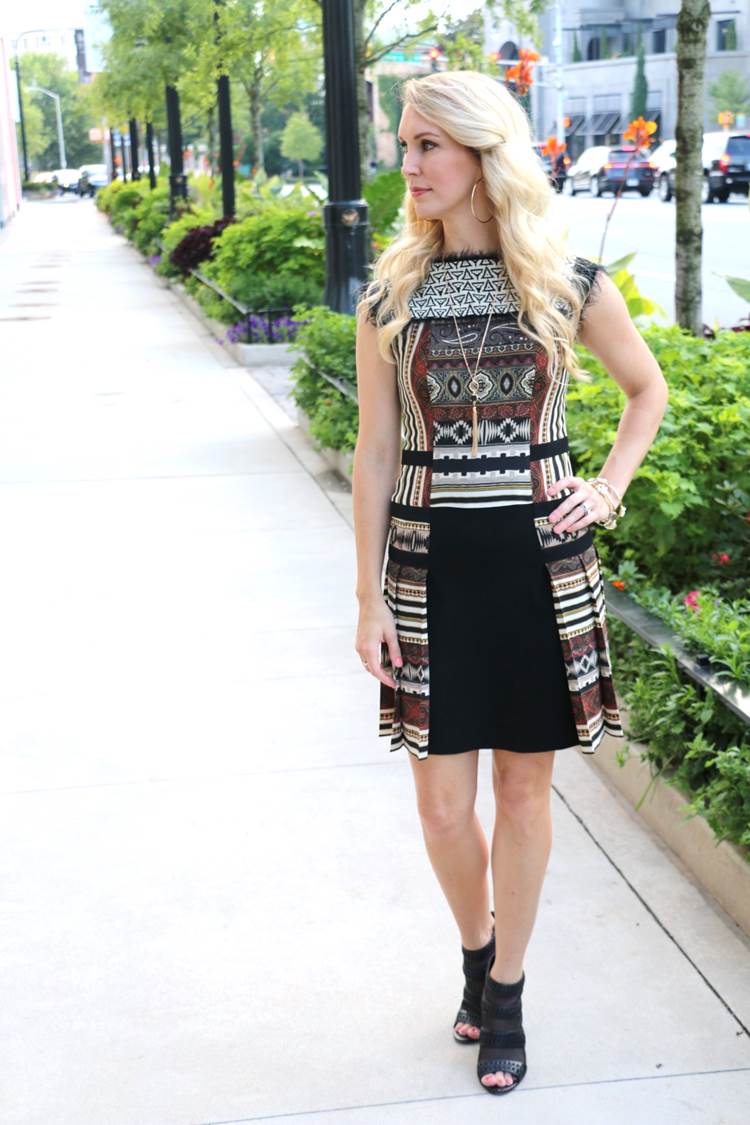 FUN FACT
(just because I'm about to embark on a quick weekend trip to NYC for this year's fashion week… which you must follow along with #PCtravels on twitter and instagram):  
Etro hosted it's first catwalk show at Milan Fashion Week in 1996. 
—–
I couldn't have wished for a better event or a more stunning look from Etro, so if you're around the shops at Buckhead and feel like getting your print on pop into Etro and tell the guys I said hi 🙂
And while you're at it, you might want to grab one of those sensual candles from Diptyque and a coffe from Corso.  So whenver you're ready to grab lunch over at the Shops at Buckhead or pick out your must haves from Etro's new fall collection… give me a shout and I'll meet you there.