Fall Favorites from Atlantic Station
If you've seen a few of my DIY posts under the Creative & Home section of Peachfully Chic, you might have noticed that I sometimes link over to my DIY & craft posts over on Craft Box Girls.  A couple of weeks ago I took a tour of Atlantic Station with my fabulous Craft Box Girls team and checked out a few of the stores in order to bring you the inside scoop on all our fall favorites.
In addition to running Peachfully Chic and contributing to Craft Box Girls, I work in midtown Atlanta.  And because I'm always running errands during lunch or after work, Atlantic Station is my go to area for shopping and restaurants…  This is where my love affair with Atlantic Station blossomed.
If you are not familiar with Atlantic Station, it was created on the premise of "Live. Work. Play" in one community.  Complete with a movie theater and Publix, there are a ton of restaurants for dining and stores to shop for whatever you might need.  There are condo's and apartments all within walking distance, and you may recall my post on the Atlanta Open Tennis tournament hosted in Atlantic Station earlier this summer… which speaks to the many events and activities hosted in Atlantic Station throughout the year.
My evening tour with Craft Box Girls featured four stores inparticularly: Festivity, Dillards, West Elm, and Francesca's.  I was joined by fellow CBG's Lynn, Rosanna, and Chan and you can actually pop over to Craft Box Girls to see all of our #FallFavs featured.
[line]Festivity[line]
We started by visiting Festivity, and then explored their new fall collection of clothing, as well as many home decorations.  I absolutely fell in love with the fring black vest, but I ended up going with an insanely soft sweater that I was sure would be one of my fall/winter essentials this year because it was ultra-comfortable.
Festivity featured a lot of on trend looks for fall (ie: black fringe vest above)… and even had some great spring/summer pieces on sale that could easily transition into fall with a sweater or tights!
[line]Francesca's[line]
We popped into Francesca's where I was immediately impressed with their full selection of in style jewelry which was even more fabulous at a BOGO 50% offer!  I shopped the store hunting for my fall favorite but kept coming back to the beautiful table full of jewelry.  Once I end up doing a behind the scenes tour of my closet in our new house, you'll see just how much I'm obsessed with jewelry.
[line]West Elm[line]
After Francesca's we decided to head over to West Elm and shop some home decor.  Between the bar carts and the pops of blue, I was smitten.  And since I'm planning a Halloween Housewarming on October 31st, I was eyeing the Parker Dining Collection with all the skull accents a girl could want!  Slightly spooky but classy as always.
And speaking of October… West Elm is actually hosting a Spooky Film Festival every Friday at dusk in Atlantic Station's central park starting October 9th.  Bring some popcorn, find a spot to perch, and enjoy the night!
[line]Dillard's[line]
Our last stop of the Atlantic Station tour concluded with a quick look at Dillard's and their new fall collection of shoes & handbags.  Again, you'll see what I mean when I finally share my closet makeover in our new house, but I have a serious love affair with shoes.  From heels & flats to booties or wellies, it's a struggle for me to keep my spending habits in check.   I absolutely loved all the fringe that in stores for fall, and these little Vince Camuto beauties really wanted me to take them home with me 😉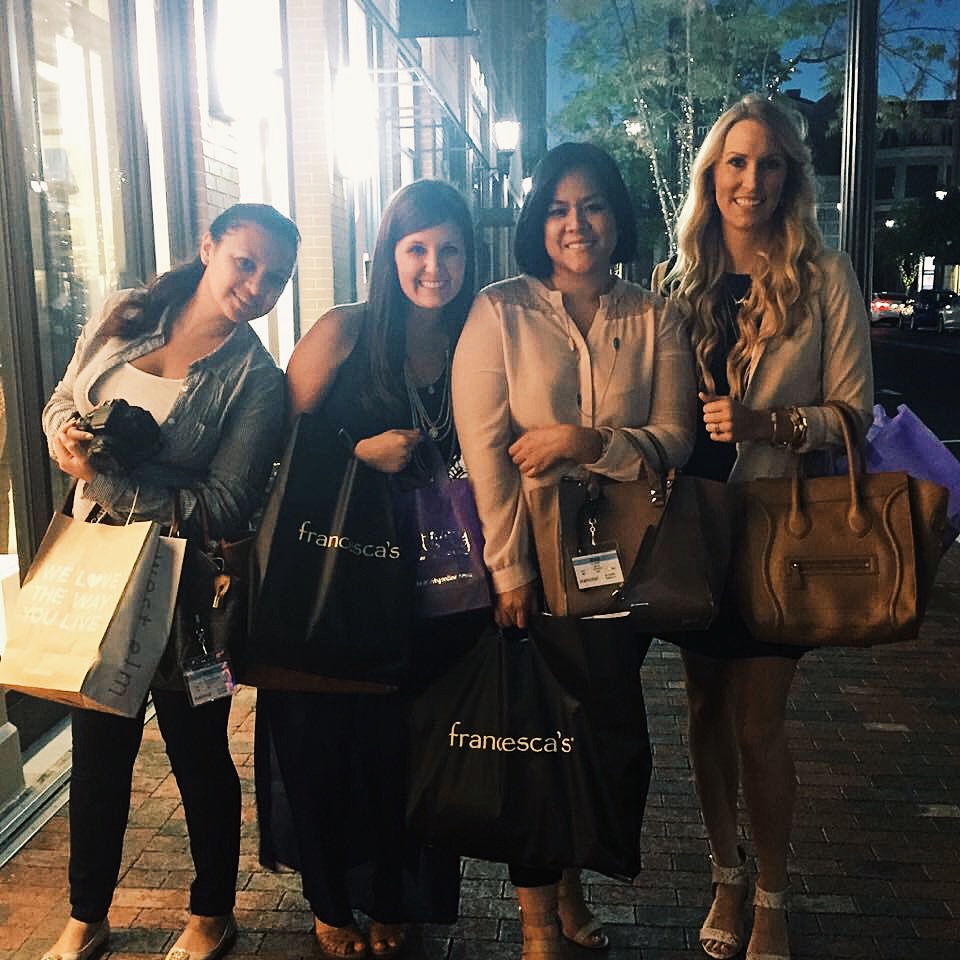 By the end of the tour I had experienced a fun night of shopping with some of my favorite gal pals in the most perfect little al fresco shopping center you could want.
If you haven't been to Atlantic Station, you should check it out.  And if you've been to Atlantic Station but it's been a while…. you should check it out too!   This place is definitely a great area to take a stroll, window shop, snack on something tasty, and unwind with some drinks & your closest girlfriends.  And while this tour was all about #GNO, I love that Atlantic Station offers a little variety for to appeal to the whole family.
You can check out the recap of our #FallFavs over on Craft Box Girls, and connect with Atlantic Station on Facebook, Twitter, or Instagram to find your own #FallFavs.  Happy Shopping!