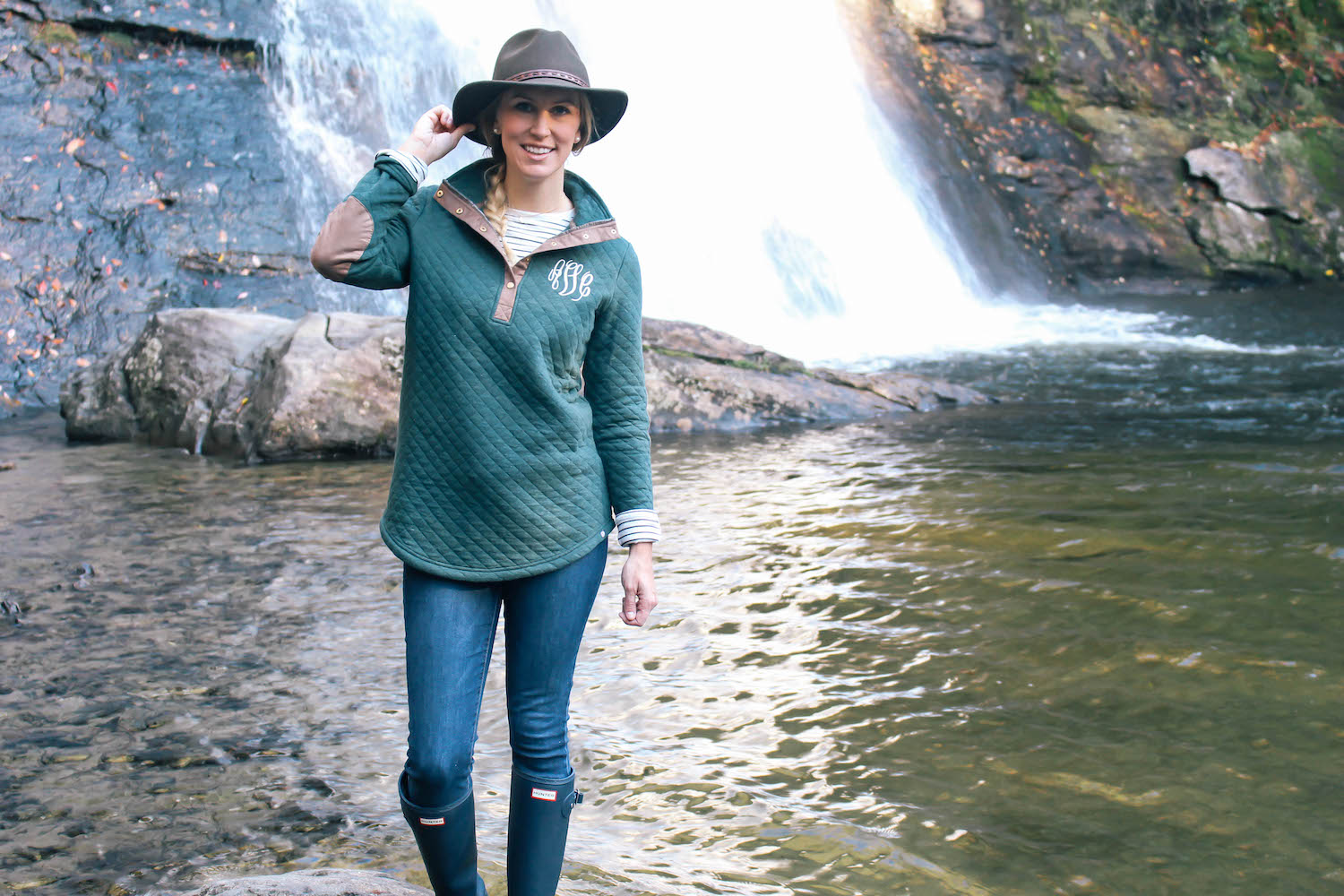 On a recent trip to Cashiers, North Carolina, I spent a weekend at the High Hampton Inn as I explored the surrounding mountain trails at Chimney Top Mountain.  Just before wrapping the weekend and heading home, I decided to stop at Silver Run Falls.  Just a few miles south of Cashiers, you can pull off to a small roadside parking lot and take a short walk down a path to reach Silver Run Falls.  The 25-foot waterfall is located in Nantahala National Forest.  It is free to access and is a popular swimming hole to cool down in the hotter summer months.
Since I visited in the early winter season, I decided to dress a bit warmer in the cooling mountain temperatures.  I pulled out my navy Hunter Tour boots to pair them with a cozy monogrammed quilted pullover tunic that Marleylilly sent me and a new favorite Scala wool hat that I picked up while visiting Cashiers.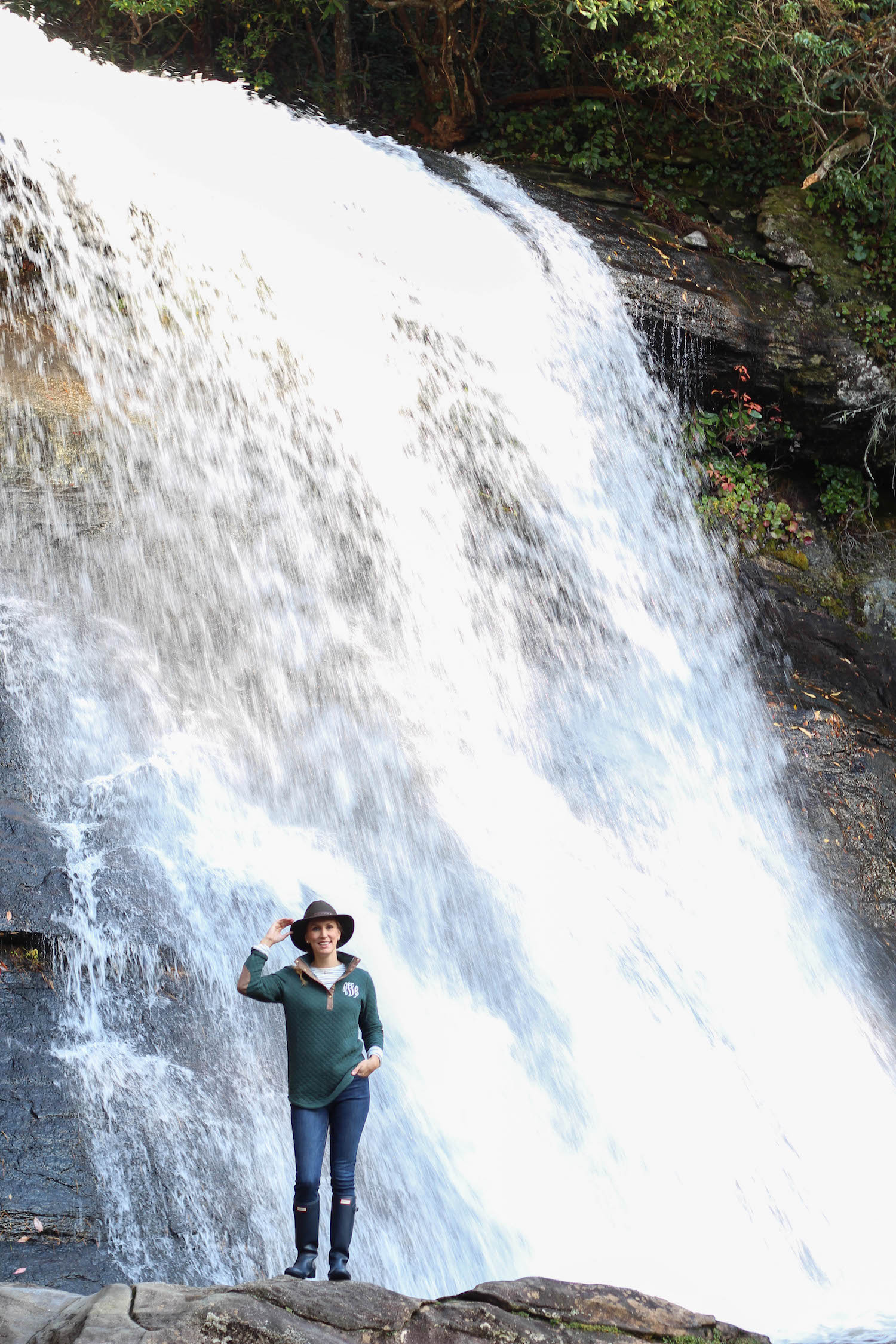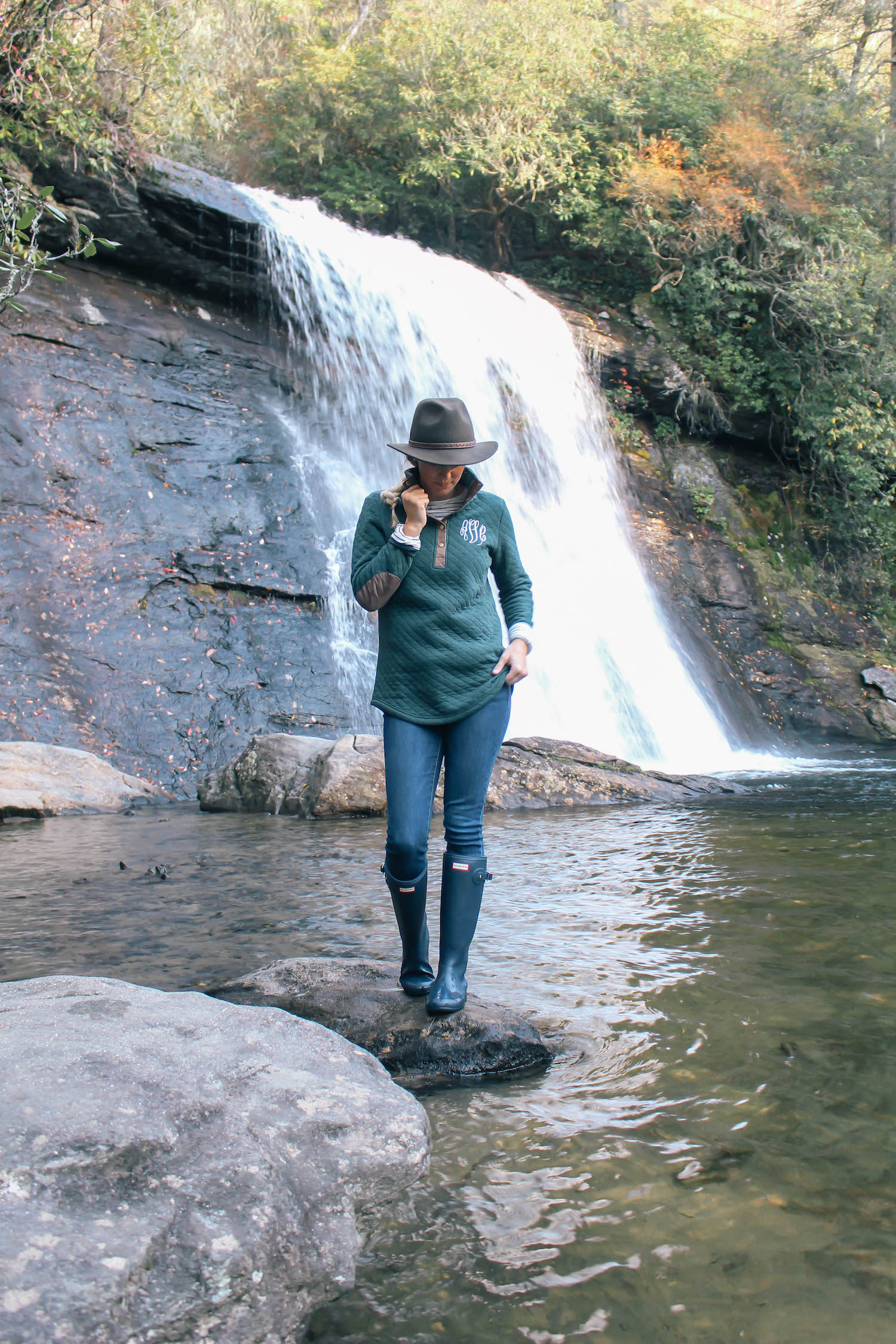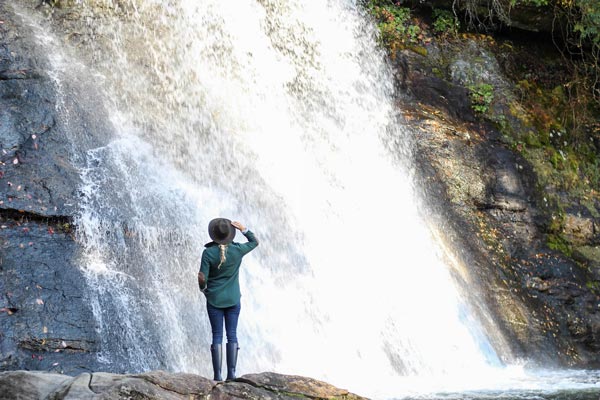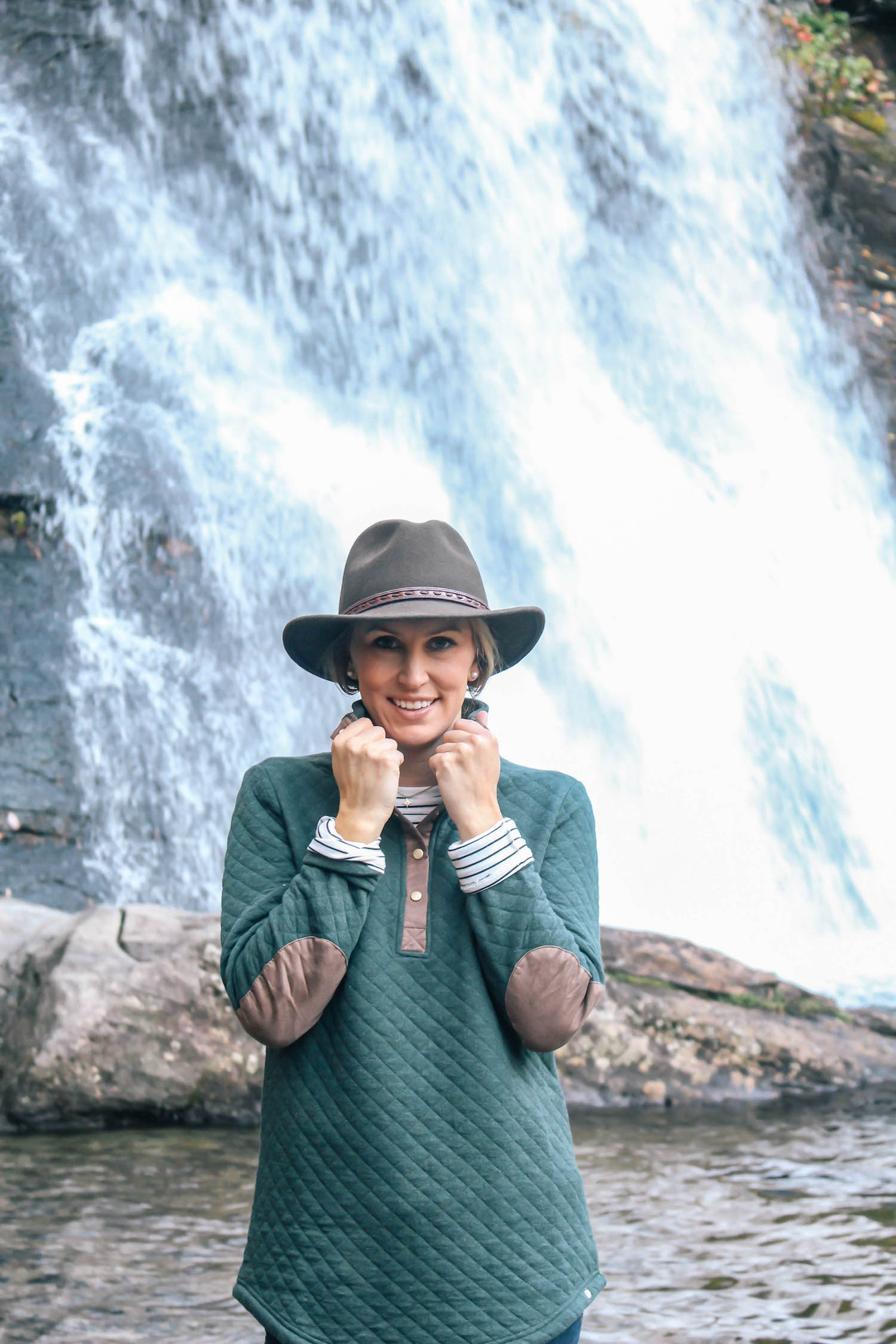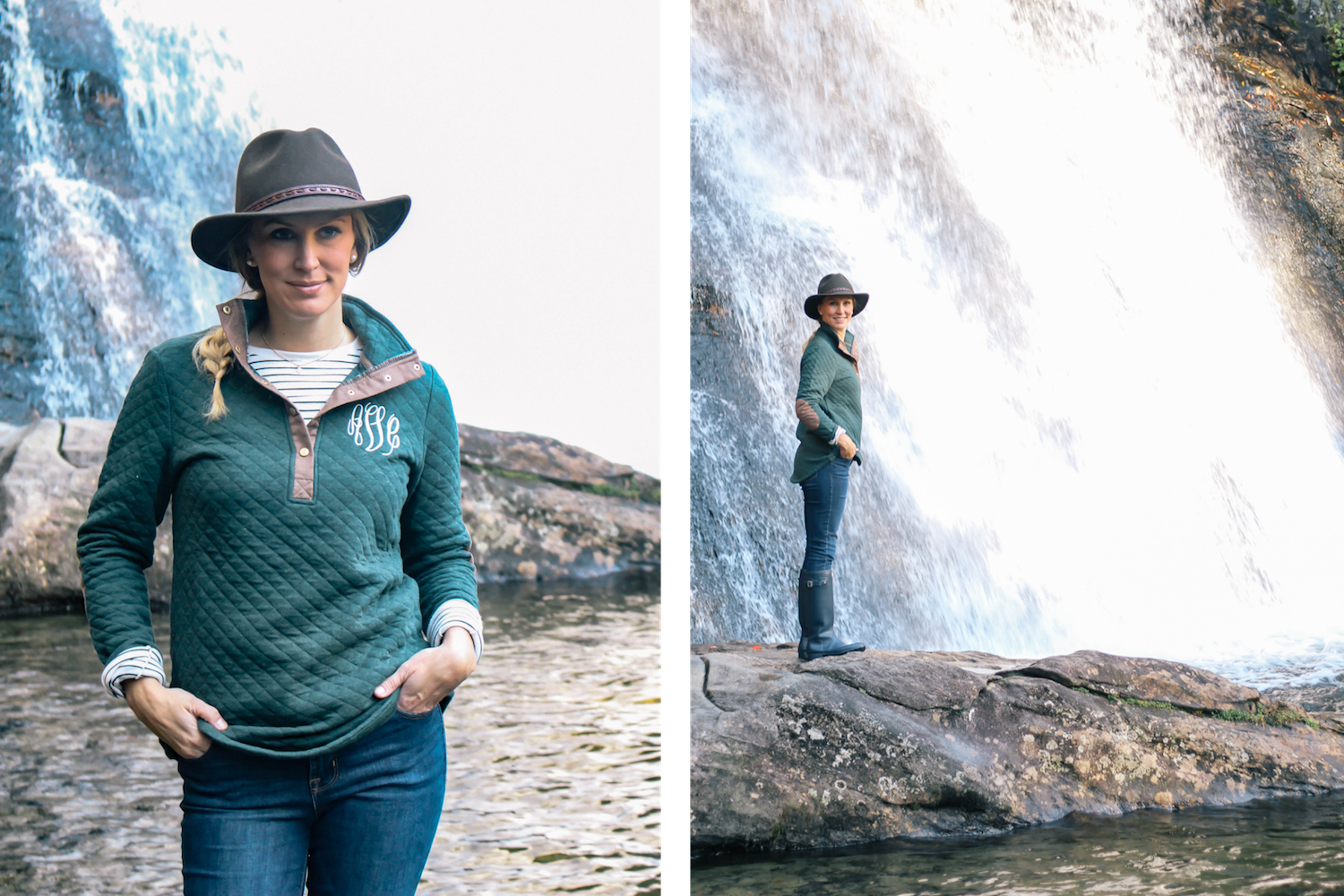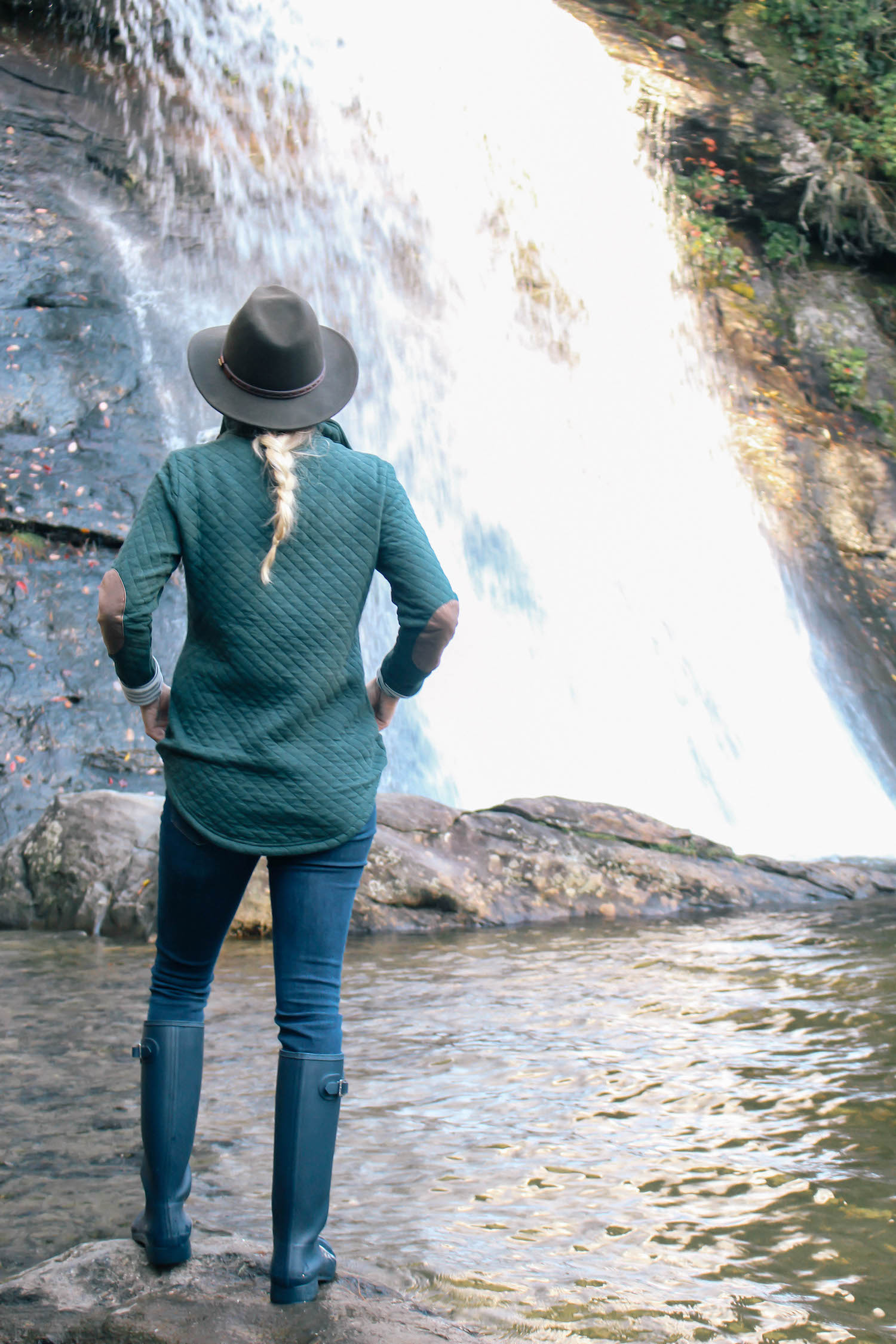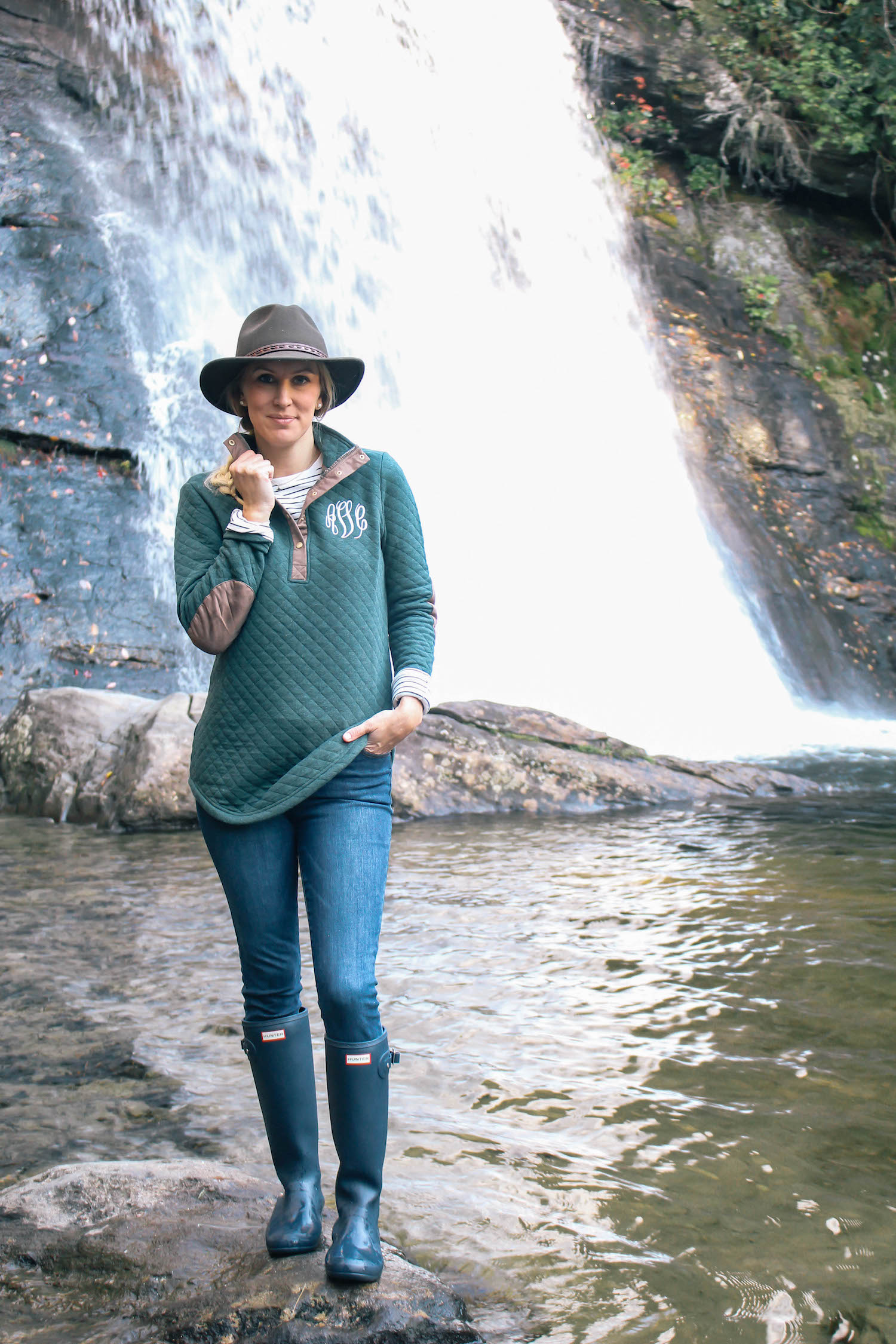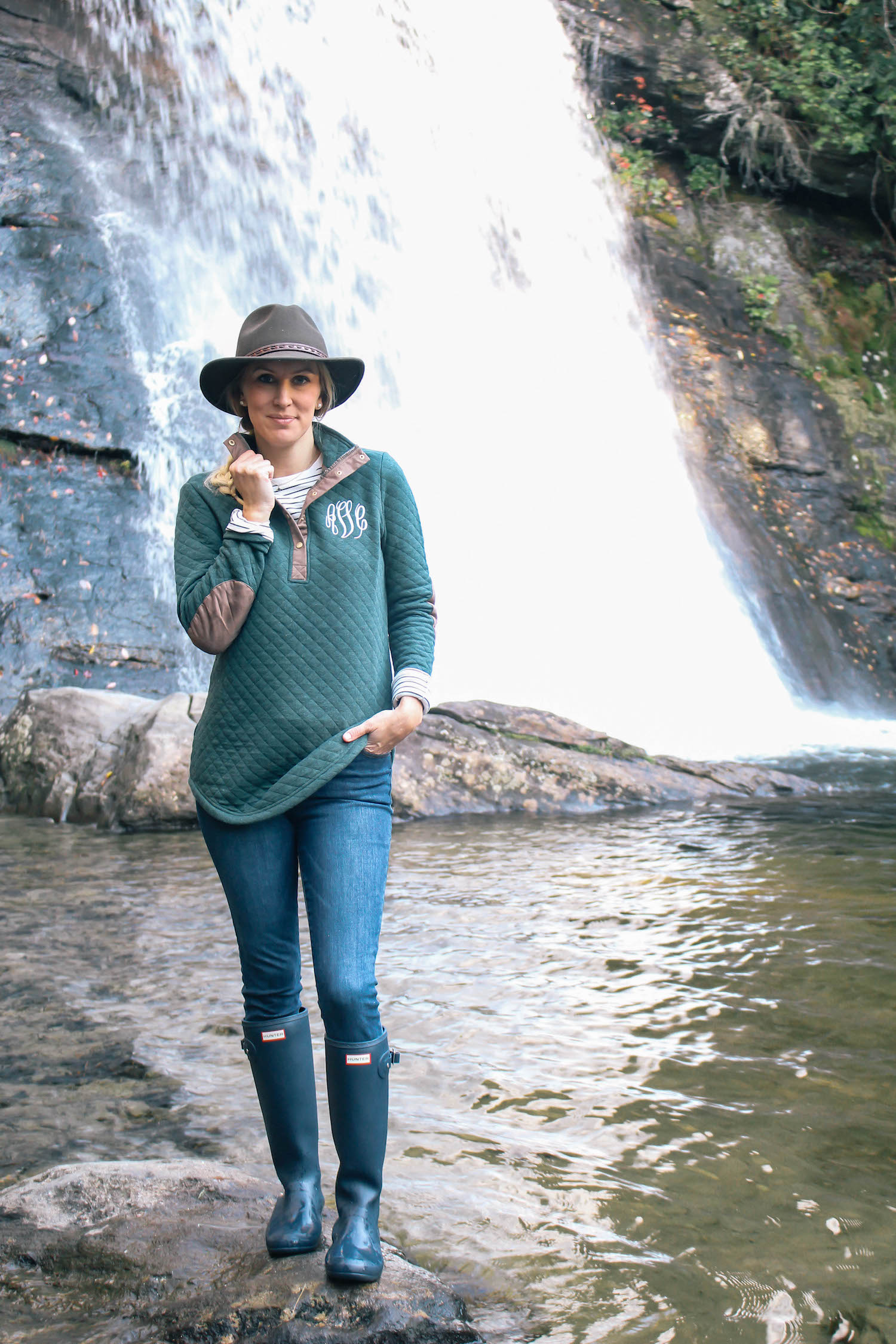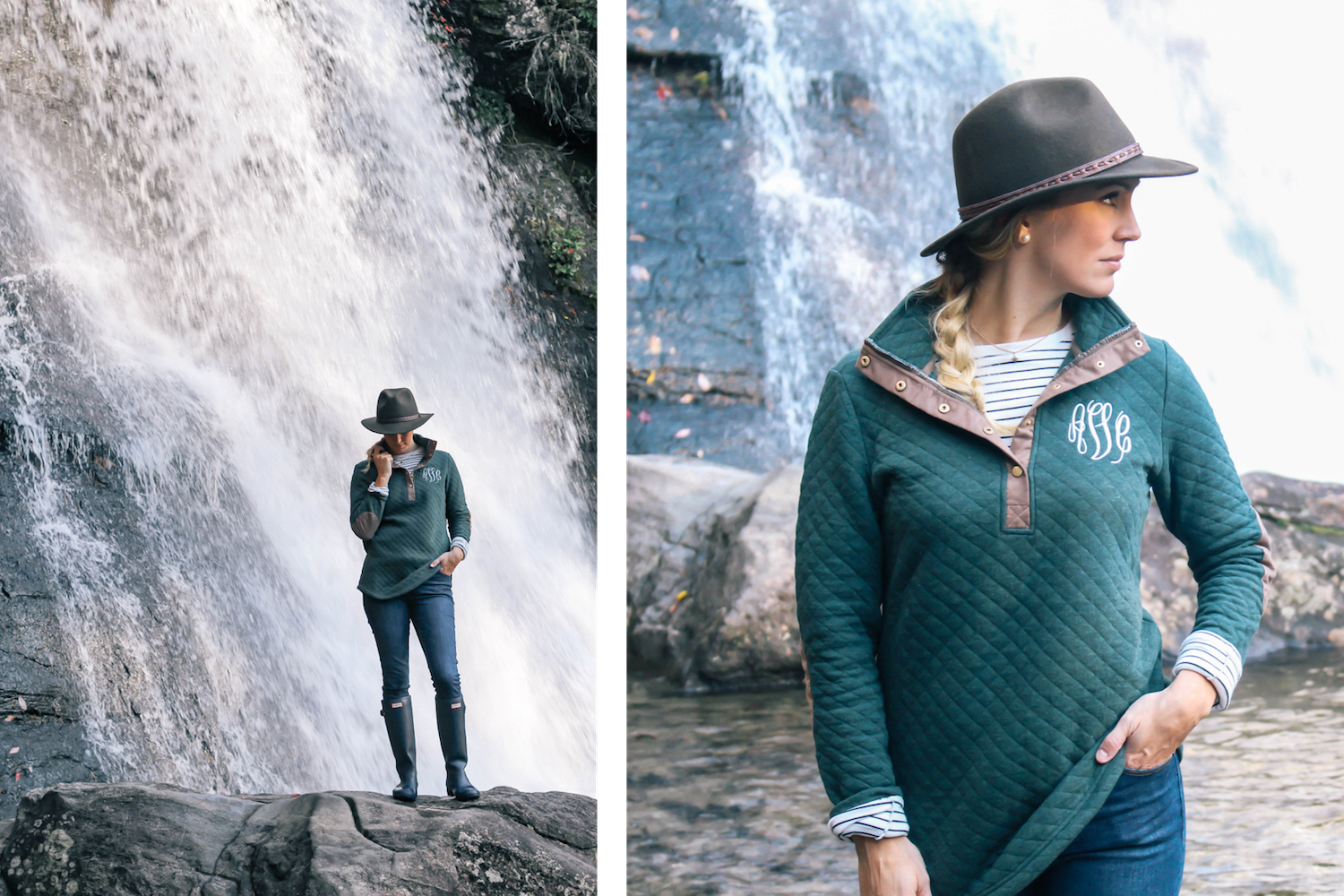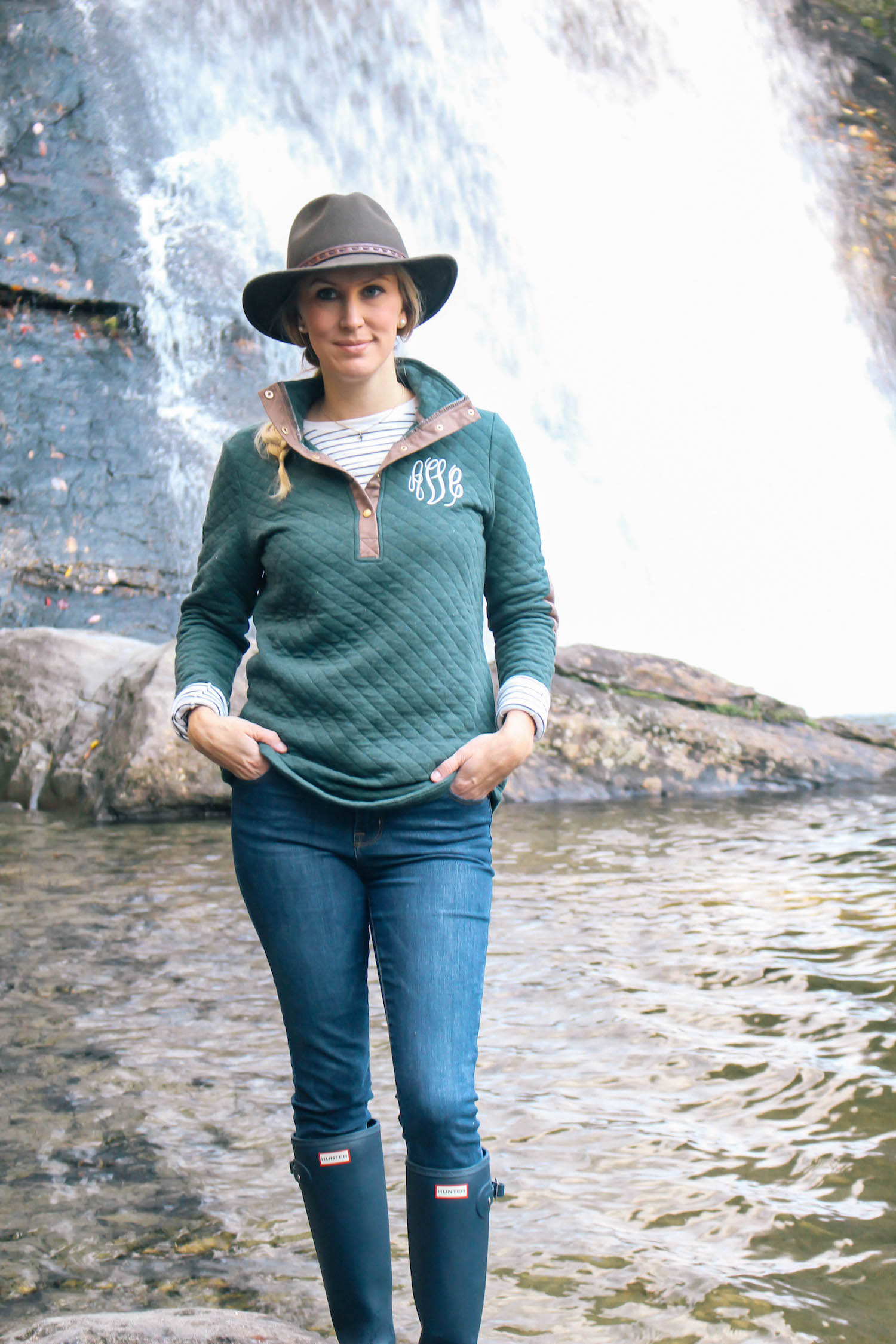 I know I'll be wearing my quilted monogrammed pullover tunic all winter and I am happy to say that it is currently on sale at Marleylilly.com along with a ton of other great pieces for their Warehouse Sale!  I particularly fell in love with the contrasting elbow patches… Who doesn't love a good elbow patch?!?  I also love that you can customize all your Marleylilly picks with whatever monogrammed initials to create the perfect signature look.  In addition to clothing, they customize everything from gifts and jewelry, to bags and shoes, so you can create your customized wardrobe to arrive right at your door.   I've tagged a few other pieces below that are similar to my look as well.
---
Shop Story:
---
---
As I walked down the path to reach the waterfalls, I could hear the rushing water and was excited to see nature's creation. Because I visited during cooler weather, I was lucky to have the falls uninterrupted by others in a quiet moment of reflection.  Exploring Silver Run Falls was fun and I look forward to heading back to Cashiers and the mountains to explore more of Western North Carolina.  In the meantime, I'm sure I'll be wearing my quilted pullover all winter to stay warm and cozy