A Romantic Jekyll Island Getaway
The end of summer holds a special place in my heart, as Kevin and I were married during Labor Day weekend last year.  We wanted to spend a "Romantic Weekend Getaway" to celebrate our one year anniversary, so Jekyll Island Club Hotel seemed to be the perfect fit.
If you're not familiar with Jekyll Island Club Hotel, it sits on one of the "Golden Isles" just off the coast of south Georgia and is a member of the Historic Hotels of America.  Originally built in 1886. the hotel was restored to its original splendor in 1986 and is now a National Historic Landmark with its beautiful Victorian architecture and ambiance.  I'm pretty much smitten with anything that hints at the romantic past of times gone by, and the Jekyll Island Club Hotel embodies just that.
Although I grew up visiting beaches all along the coasts of South Carolina and Georgia, this was the first visit for both Kevin and me to this wonderfully quaint island just minutes from the Florida line.
Once described as "the richest, the most exclusive, the most inaccessible club in the world," the Jekyll Island Club Hotel was established in 1886 as a private elite hunting retreat from the harsh Northern winters for America's wealthiest families including J.P. Morgan, the Rockefellers, Vanderbilts, Goulds, Astors, and even Joseph Pulitzer.  Talk about fancy.  
You don't have to twist my arm to stay, play and explore a former millionaires' playground 😉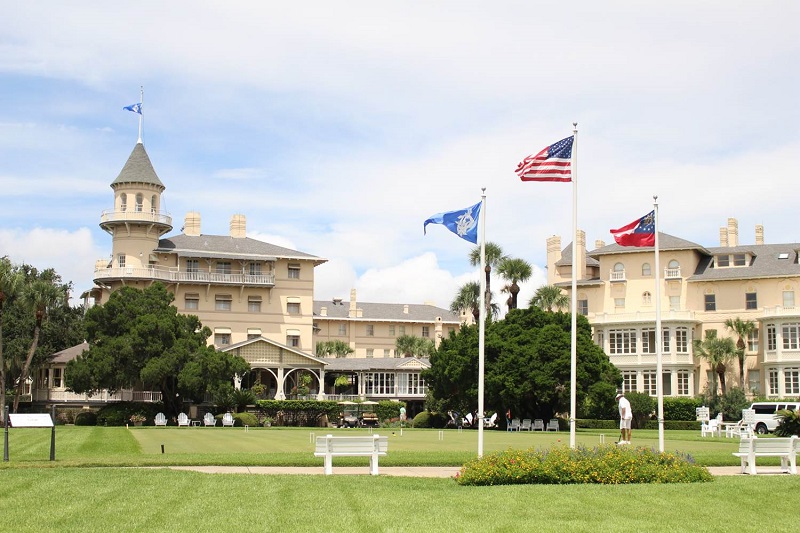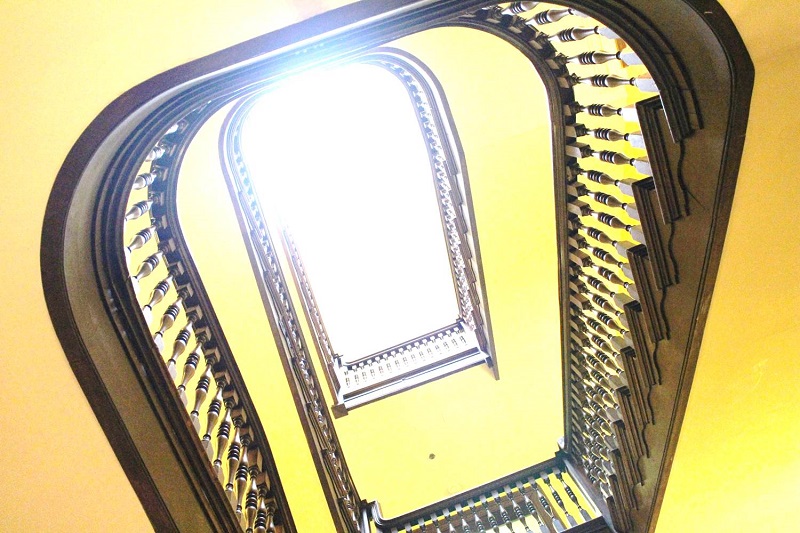 Checking In:
After a quick road trip from Atlanta, we arrived at Jekyll Island on a late Friday night.  The lighted row of majestic mossy oak trees that lined the entrance of Jekyll Island Club Hotel seemed to say "Welcome," even before we checked in.
Jekyll Island Club Hotel has five historic buildings to stay in with 157 rooms and suites: The Clubhouse, The Annex, Sans Souci, Crane Cottage, and Cherokee.  Some of the buildings were built as private cottages for some of the richest club members.  We checked in at the main Clubhouse and were handed over the vintage keys to our Victorian styled room in the Sans Souci (meaning "without care").
Upon walking up the old wrap around stairwell and unlocking the creaky double doors to our king suite, I was transported to a calmer more intimate time where I knew we would be able to embrace our cherished weekend away.
A photo of the Sans Souci building we stayed in below… our suite was the second floor on the right with the perfectly picturesque front porch.

The Trip:
Jekyll Island Club Hotel features a multitude of pre-planned package trips that take the work out of coordinating the vacation of your dreams.  Instead, they line up a getaway to fill those imaginations… and in our case, leave us relaxed and romanced.
As part of the "Anniversary Package" at Jekyll Island Club Hotel in addition to the suite accommodations, they provide an anniversary gift basket with commemorative champagne flutes, a chilled bottle of bubbly waiting for your arrival (the perfect kick-start to a weekend like ours), 100% cotton Monarch bathrobes, breakfast buffet for two each morning, a romantic dinner for two one night with signature wine, and soothing in-room Swedish couples massages.
I'm all about making vacations easier and since each of their sets range from Seasonal or Specialty Packages, & Weekend Getaways, to Holiday or Year-Round Packages… there's really no special event that you wouldn't be able to find a match for in under their Georgia Vacation Packages.  So if it means truly kicking back and letting someone else coordinate my trip… deal me in!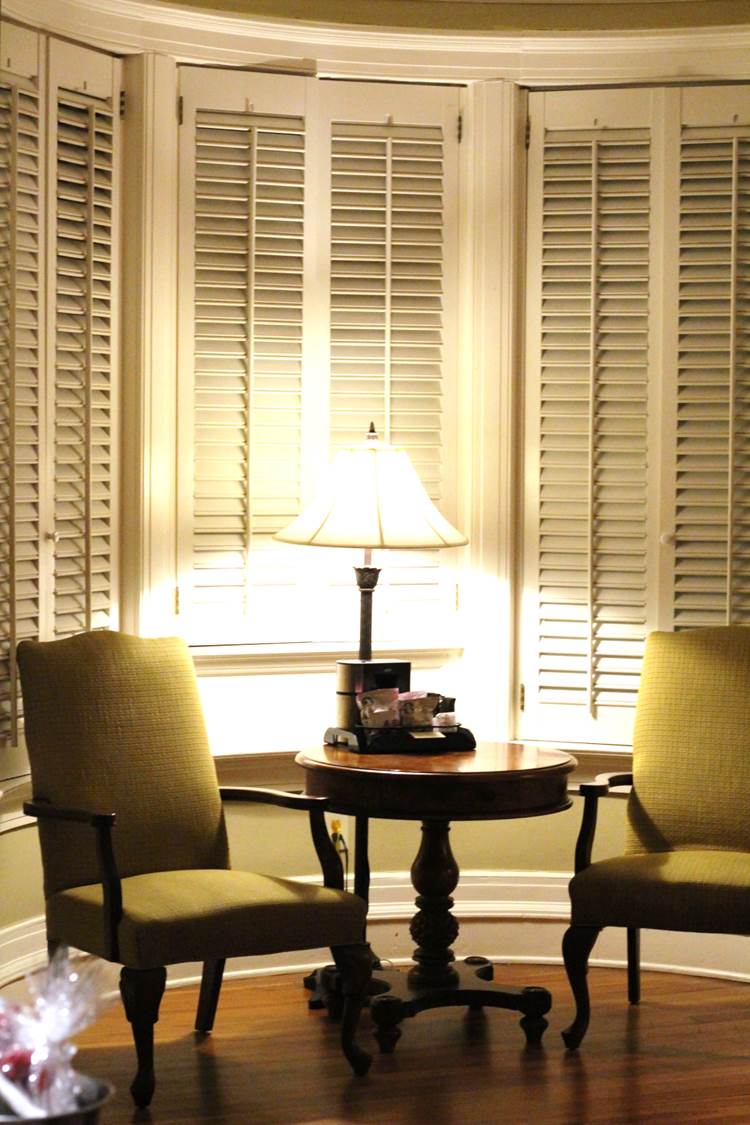 Day 1 – Excursion Time:
It's always a little muggy in the southeast every summer… that's unavoidable on a hot southern summer day.  But that doesn't mean I wanted to stay inside and miss a great opportunity to take in some fresh salty air.
So while I'm not a morning person, I had to take advantage of the great porch and rocking chairs right off of our suite with a little morning wake me up.  Especially if it meant I had the opportunity to stay in my Jane and Bleecker pajamas a little longer.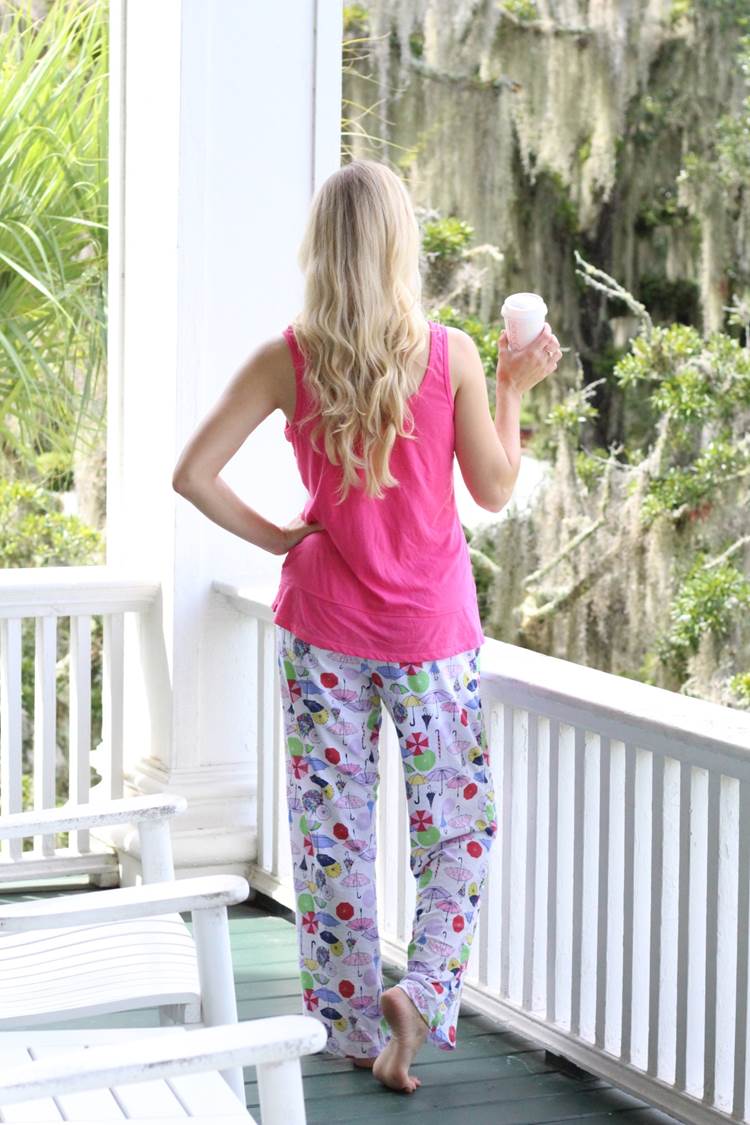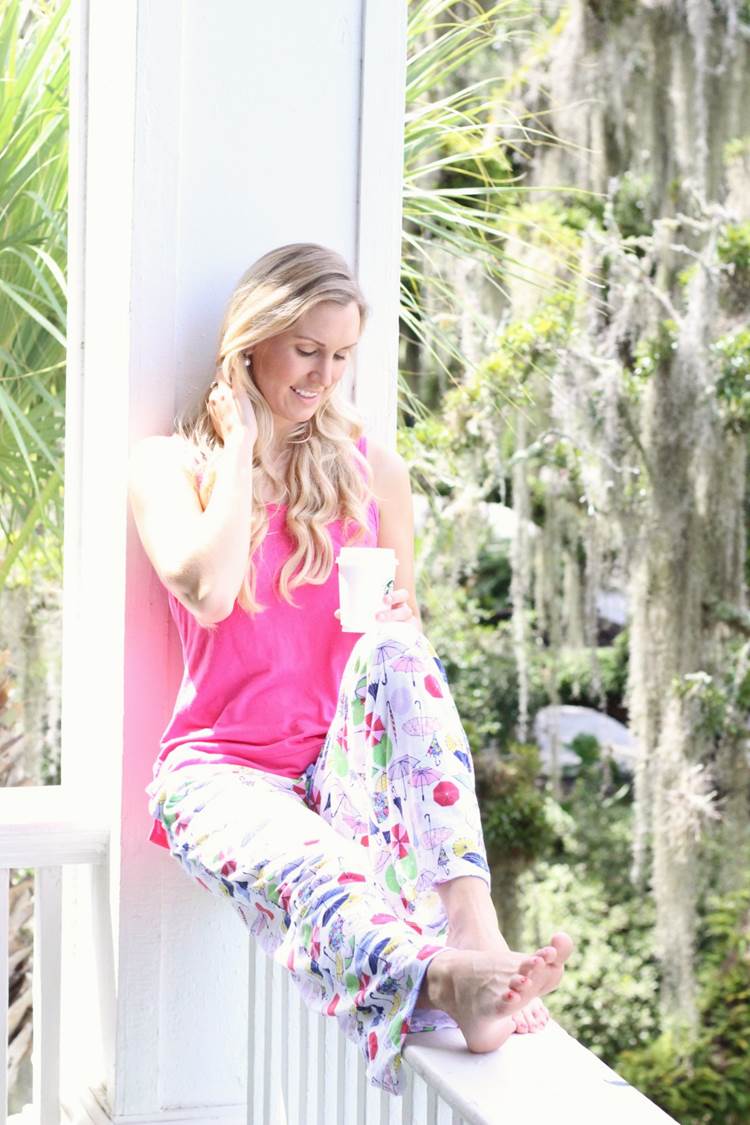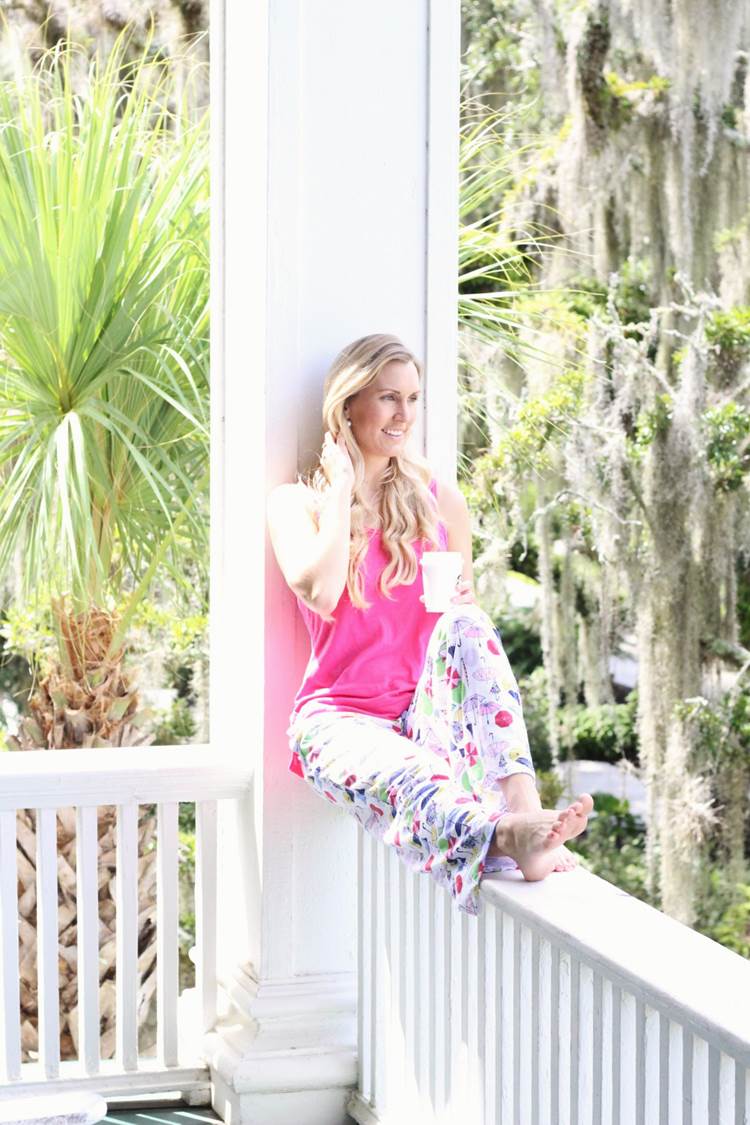 Pajamas c/o Jane and Bleecker
---
We expected it to rain all weekend, so with the first sign of sunlight breaking through the clouds, we decided to head over for a yummy & quick bite to eat at the Club Cafe, before heading over to the Jekyll Island Golf Course for a quick round of golf.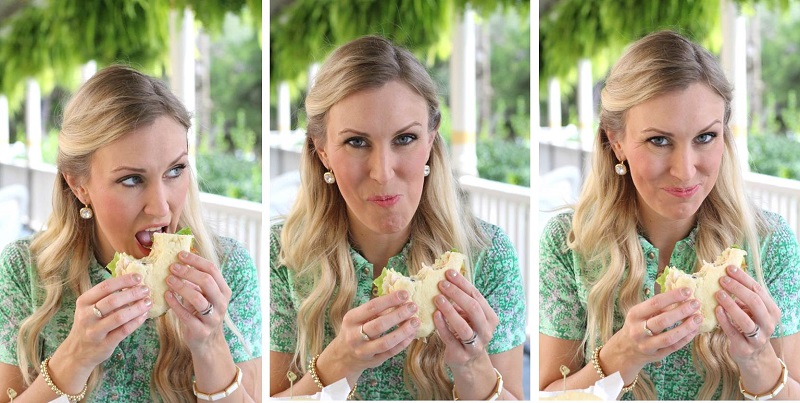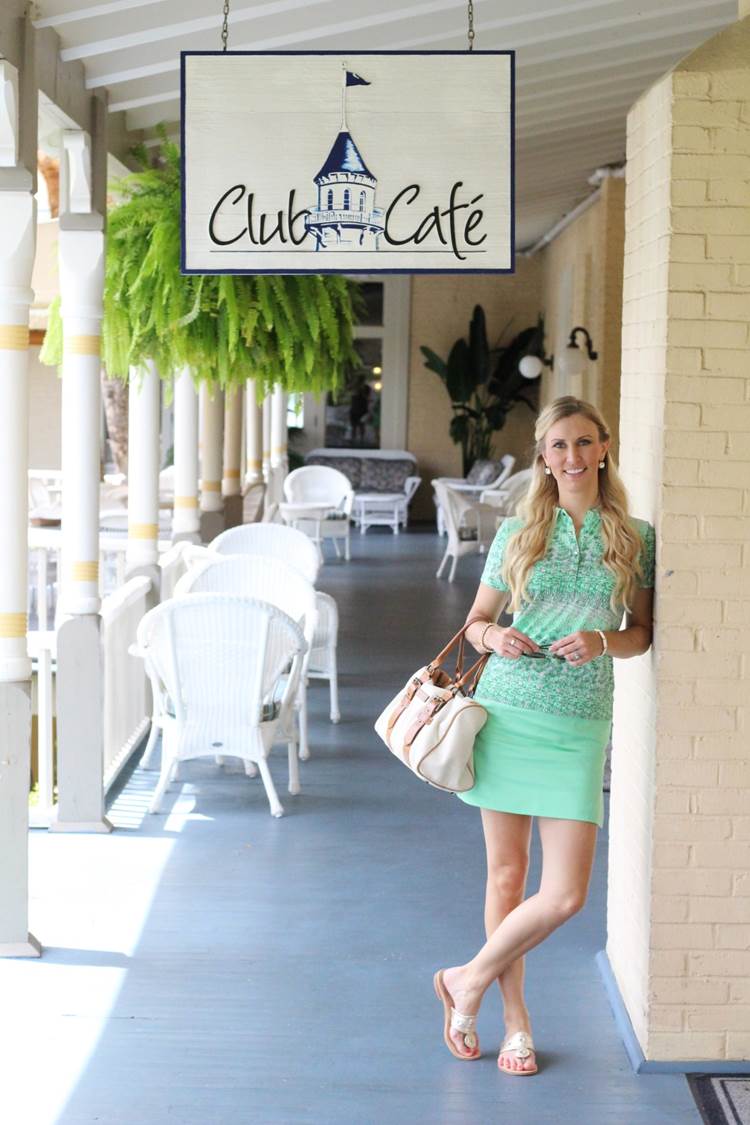 Top & Skort c/o Sport Haley  ♦  Kate Moss for Longchamp Gloucester Handbag (old – similiar & similiar)  ♦  Jack Rogers Sandals
---
Being from Augusta, I grew up around golf.  Remember when I shared my recap of the Masters and some of my background on playing?
Well, it's been five years and I've finally convinced Kevin of the merits of learning to play and hitting the links with me.  This weekend was the perfect opportunity for us to keep his new found love of golf on spotlight.
 After all… the couple that plays together stays together, right?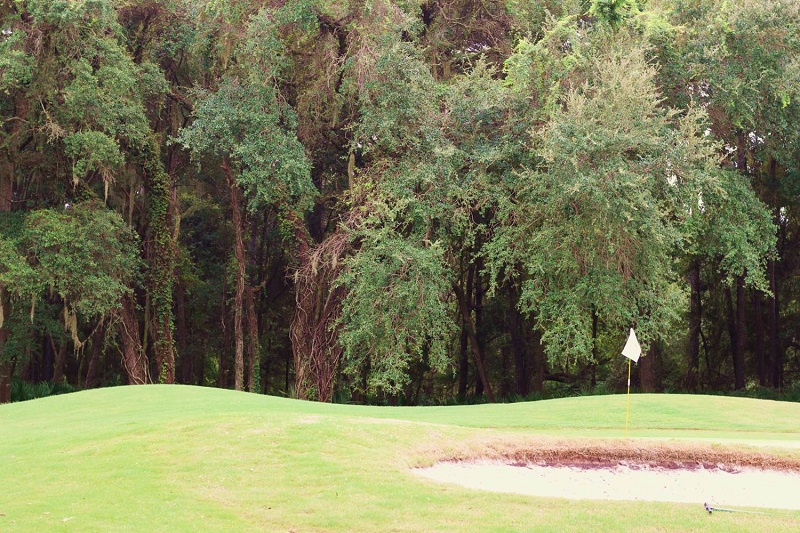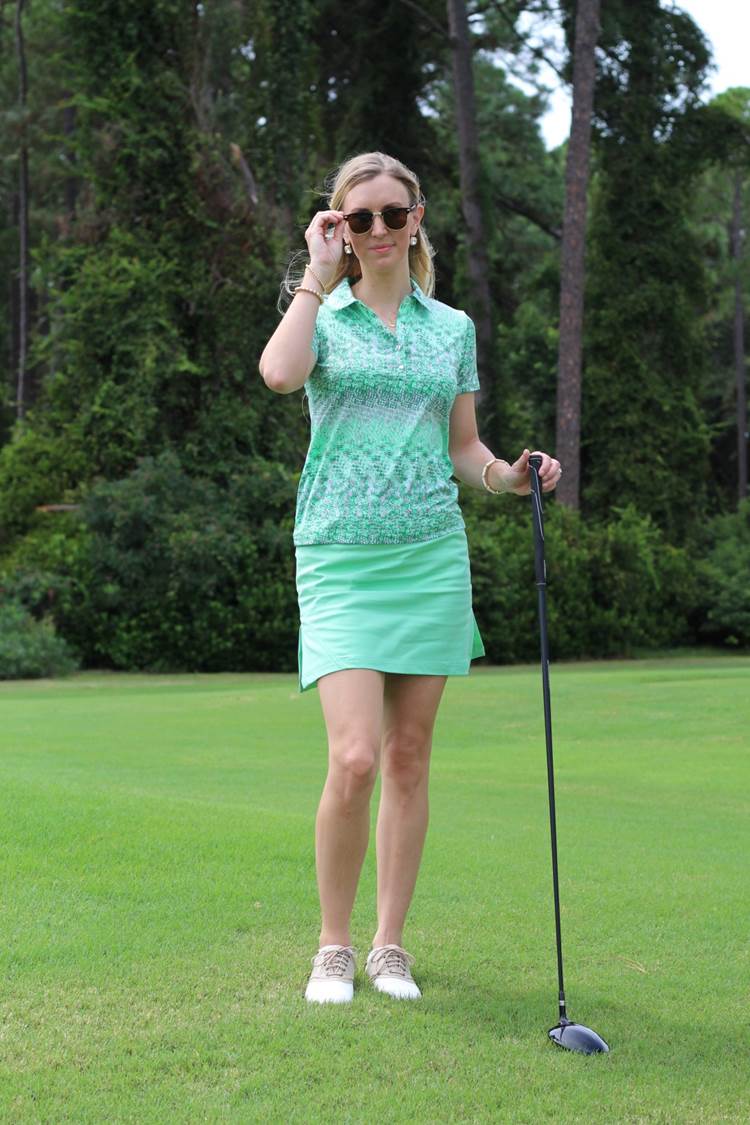 Jekyll Island Club Hotel has a ton of amenities and services to really make the most out of your stay: Swimming Pool, Private Beach Pavilion, Bike Rentals, Hotel Tours, Putting Green, Lending Library, Babysitting Service, Croquet, Massage Services, Fitness, Day Spa & Salon… but I was really excited about our Golf Date.
Plus, playing golf meant the opportunity for me to break out my newest golf gear c/o Sport Haley!
I've been coveting their Clover Lane collection (and basically everything from their site) since all of their looks are easy to transition on and off the course.
And how darling is their little owl mascot???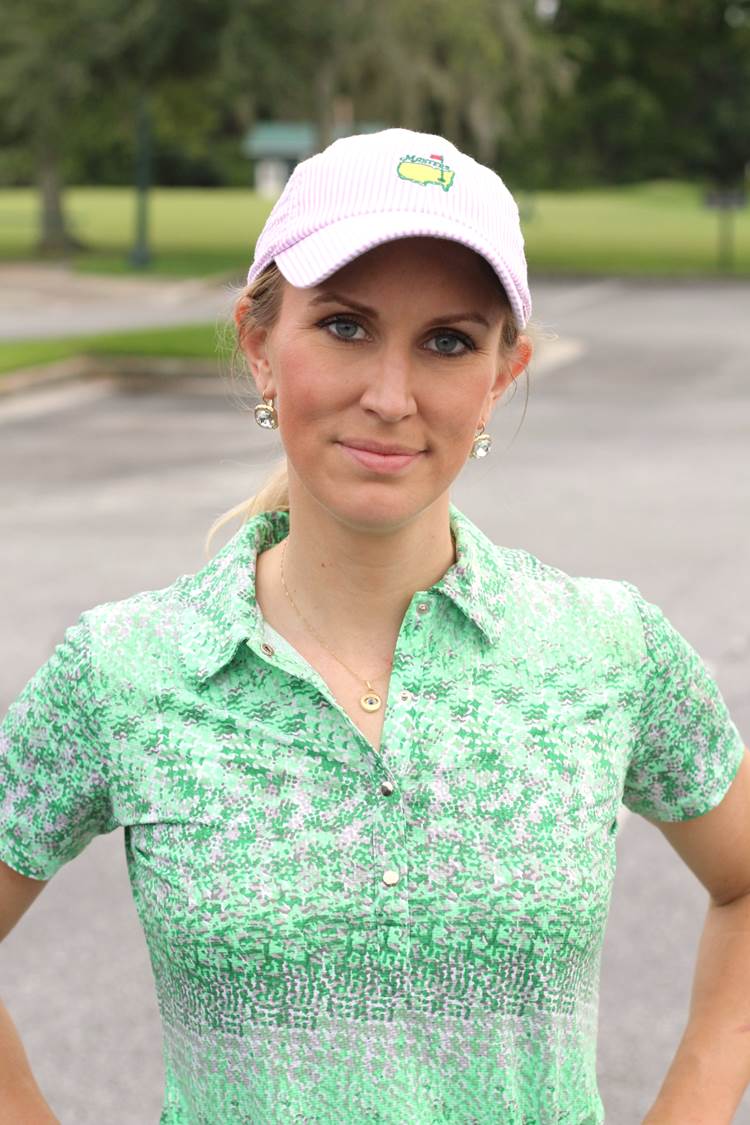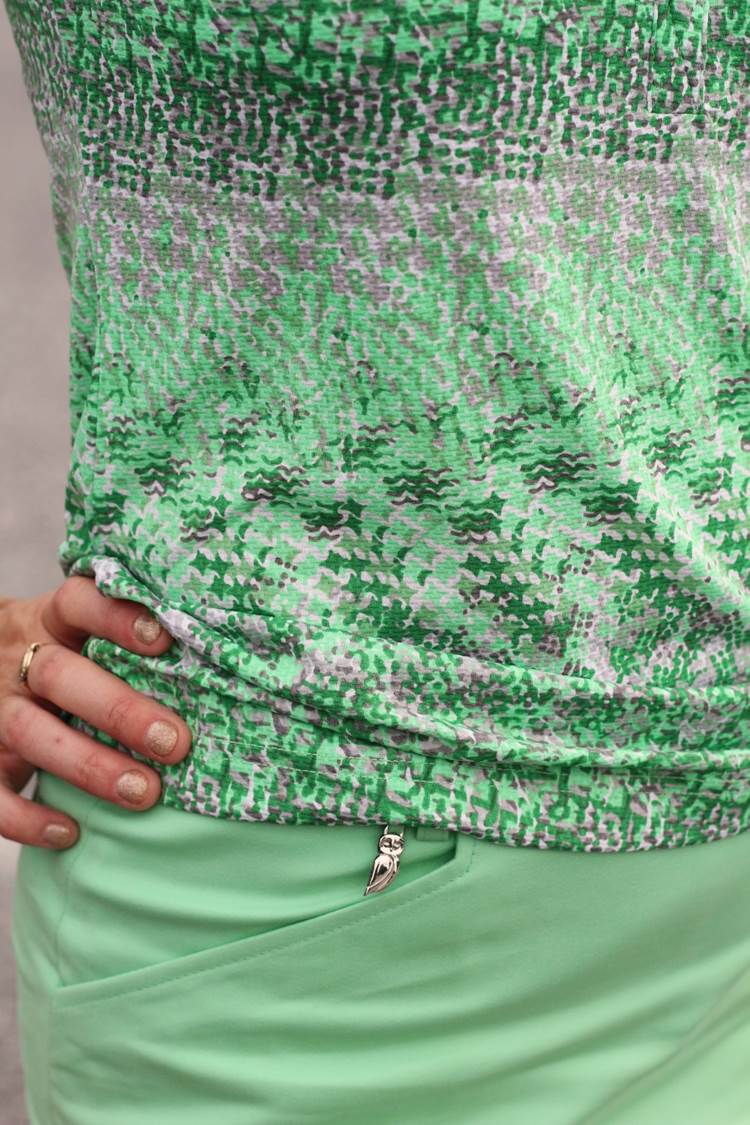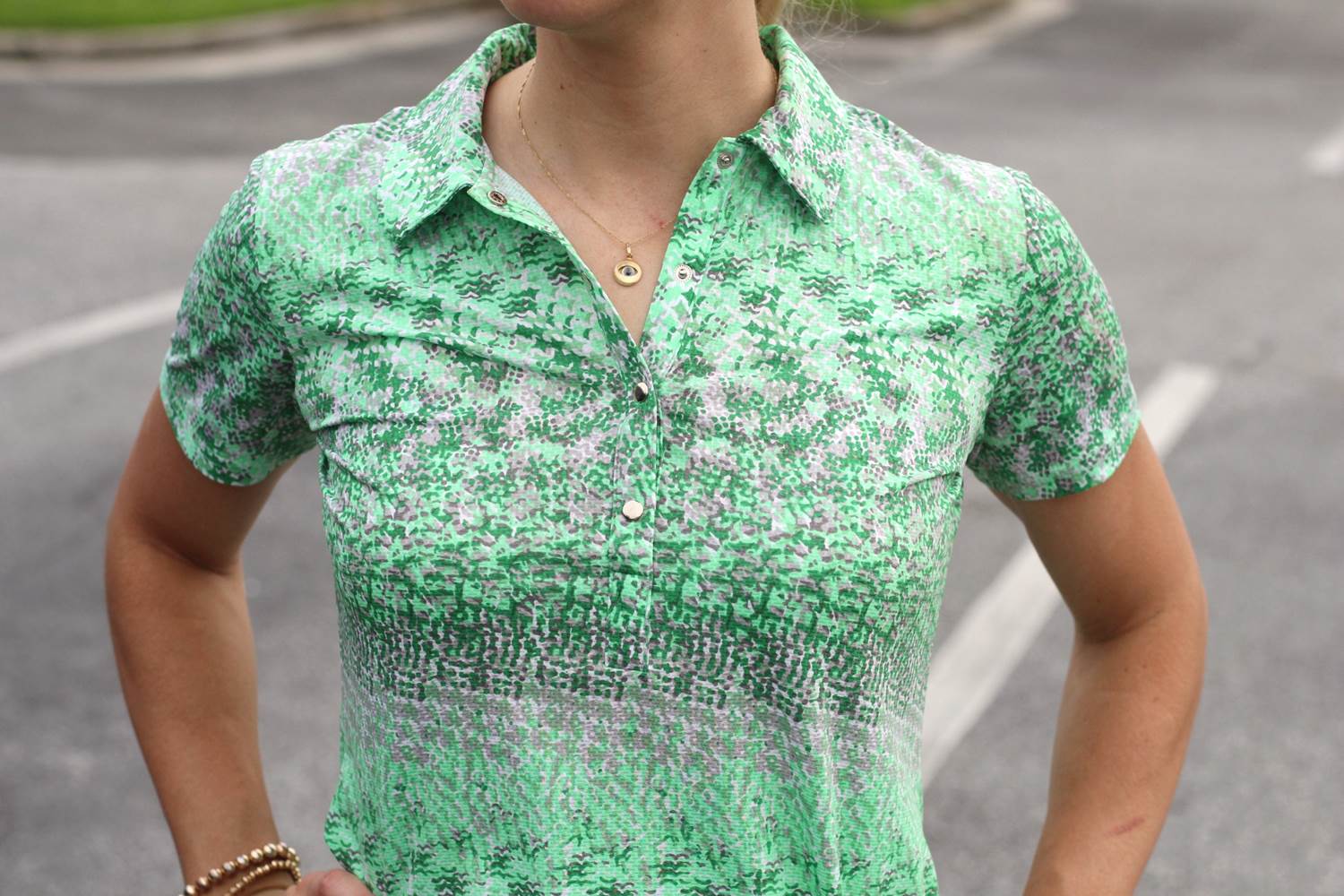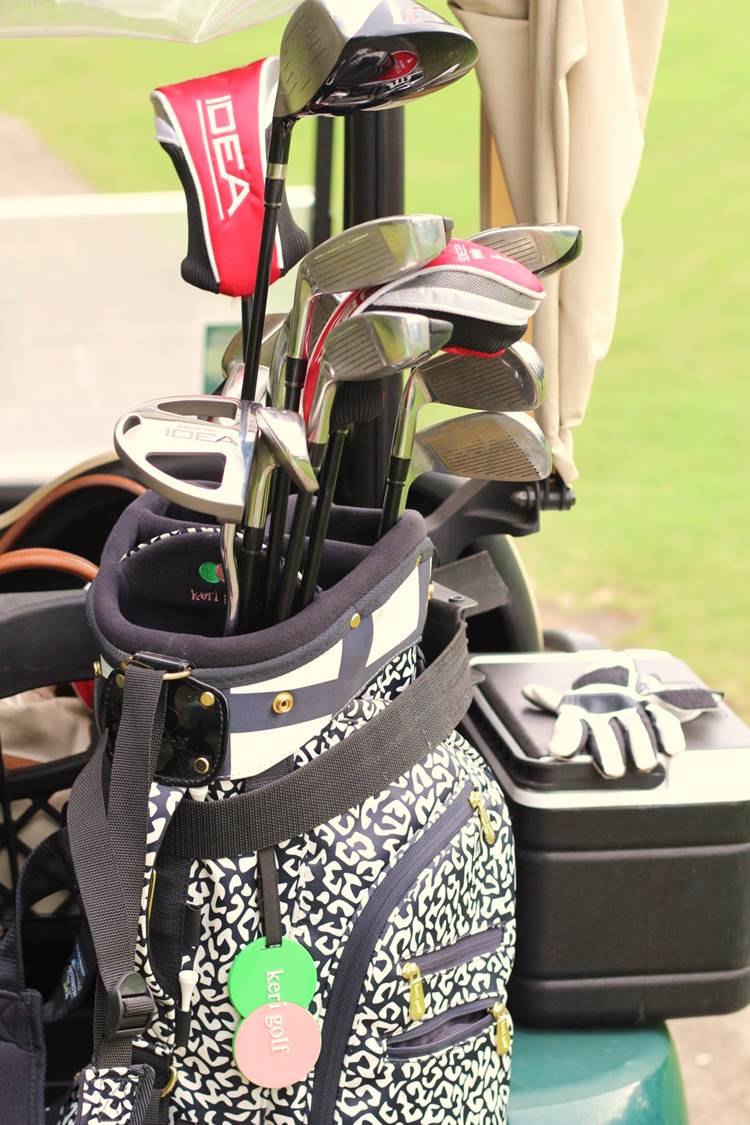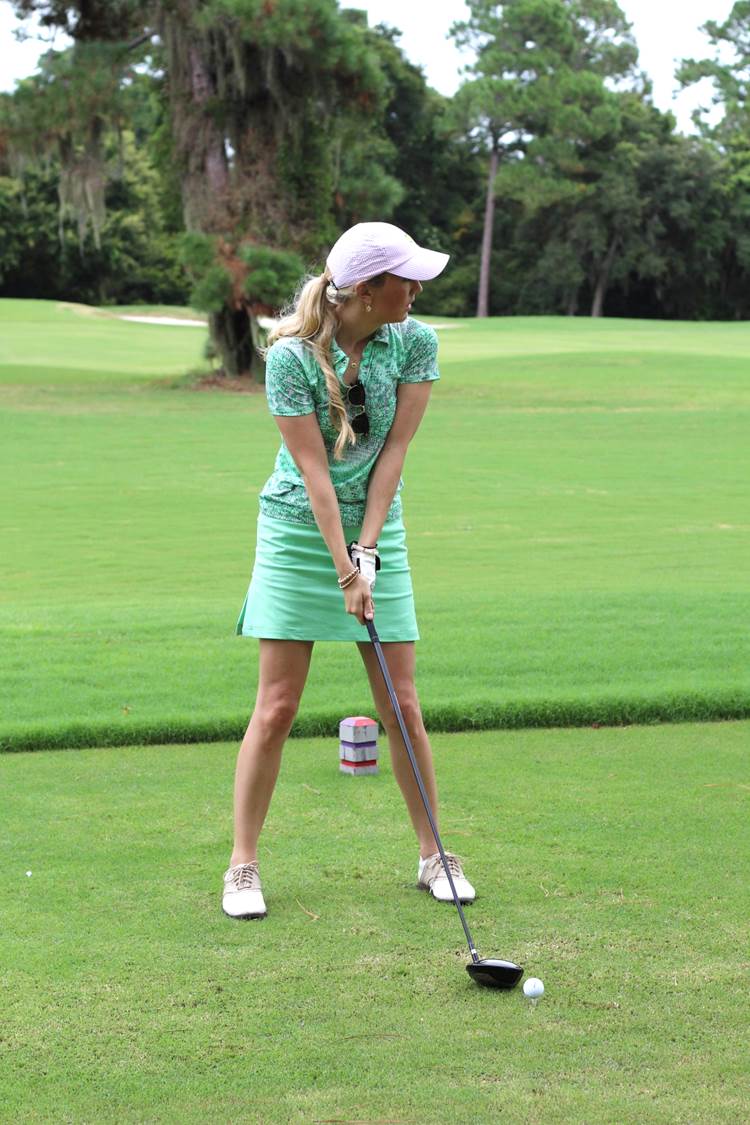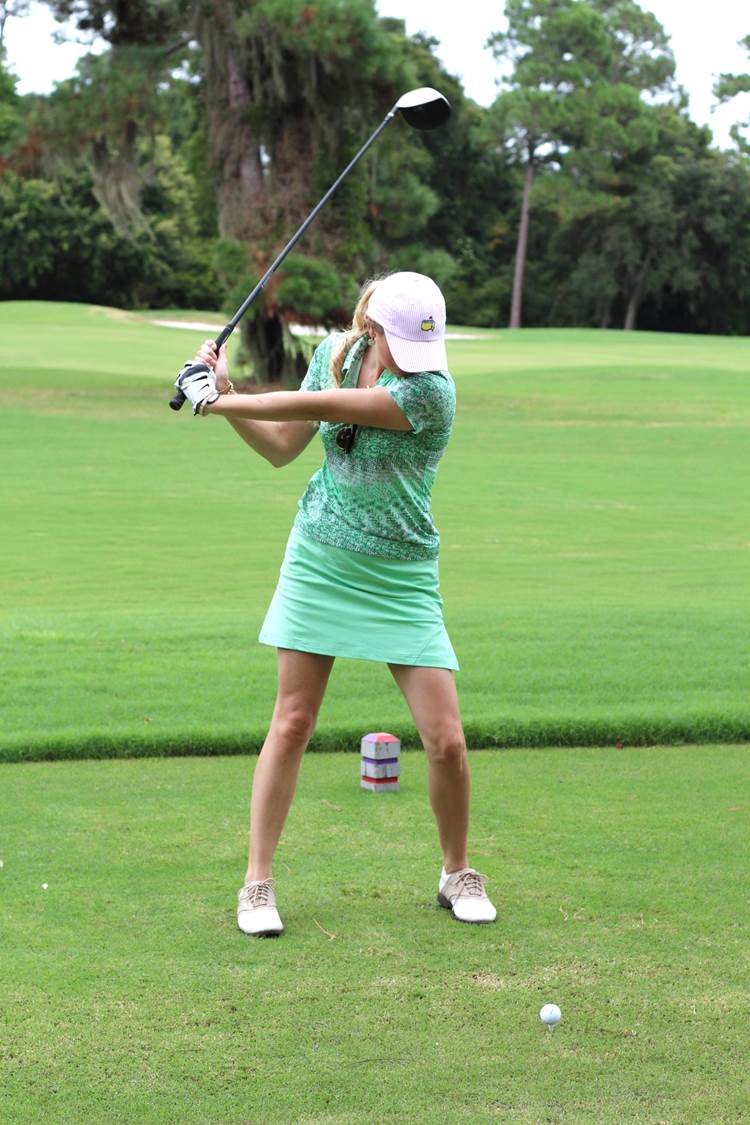 Watch out LPGA….. you might have a ringer coming your way! 😉
Dinner:
After wrapping our game before the drops of rain started to fall for a quick afternoon shower, we headed back to Sans Souci to refresh and change for dinner at The Grand Dining Room.
We kicked off dinner by uncorking a wonderfully light custom bottle of Cabernet Sauvignon and listening to the melodic tones of the Grand Dining Room pianist's classic take on modern songs.
We enjoyed appetizers of Southern Fried Frog Legs in a Horseradish-malt vinegar aioli, warm bacon slaw and Pan Roasted Scallops with Cucumber salsa and lemongrass-ginger gastrique, before jumping into our Caesar Salads.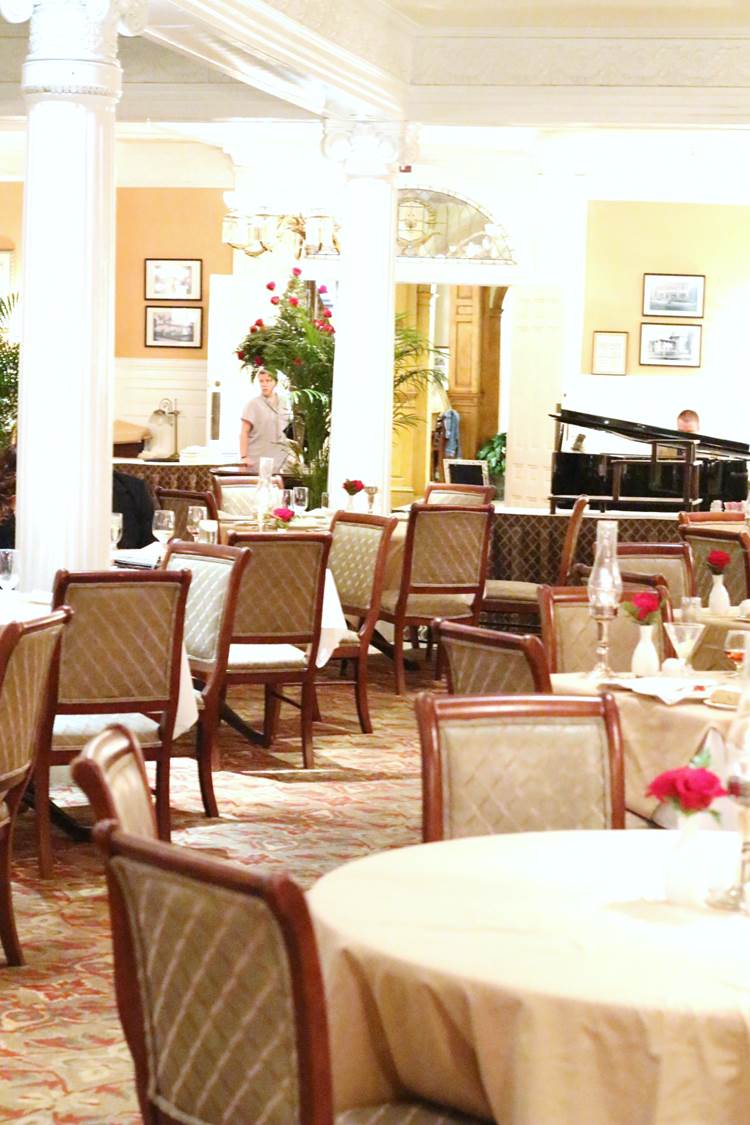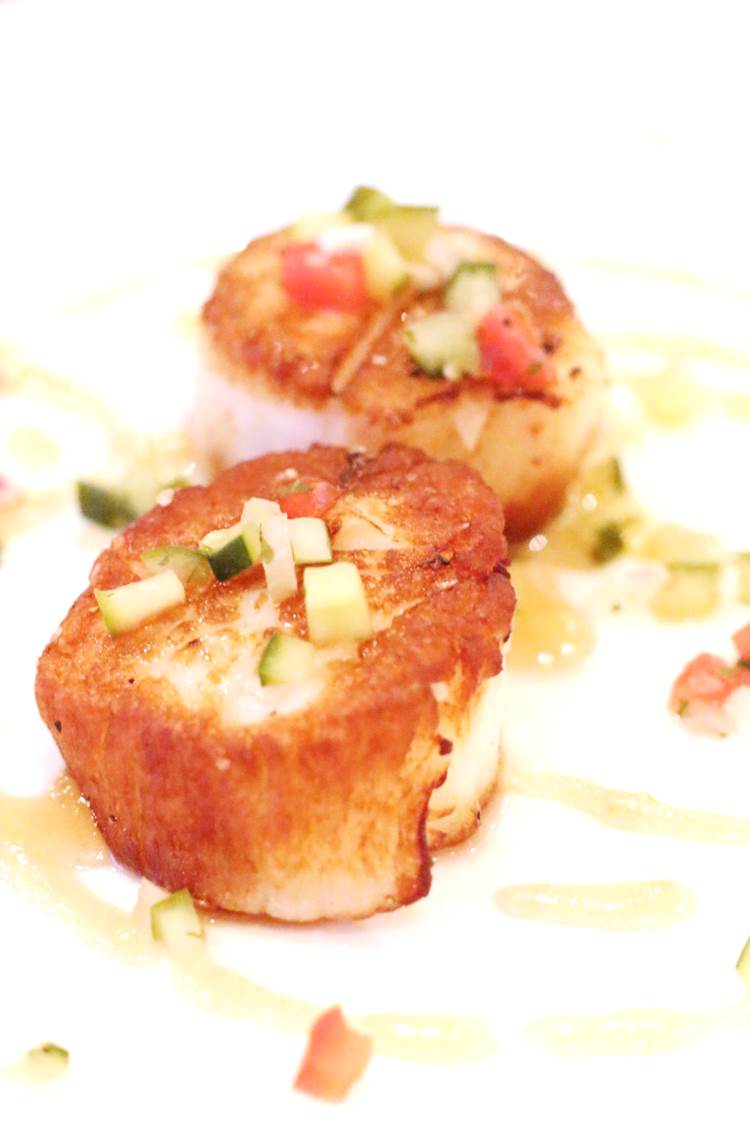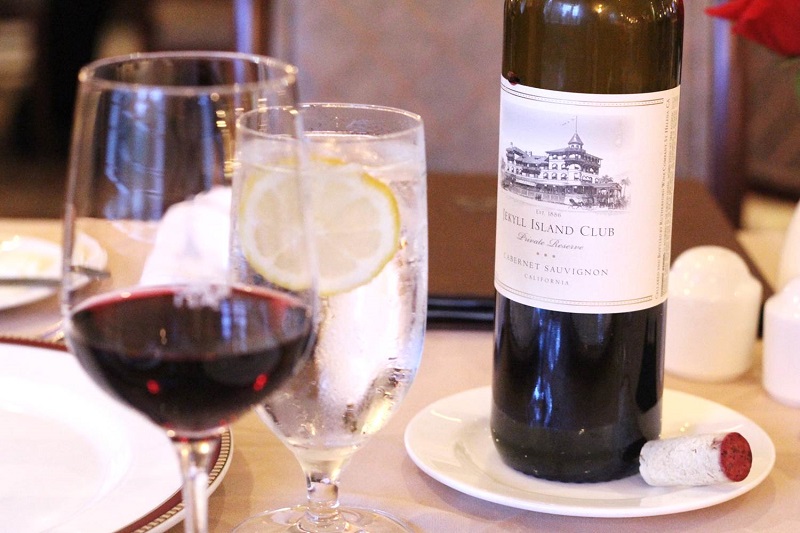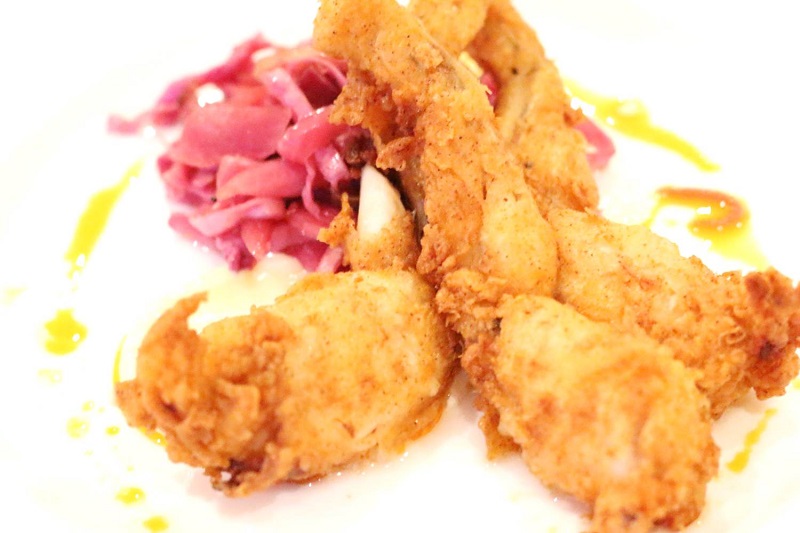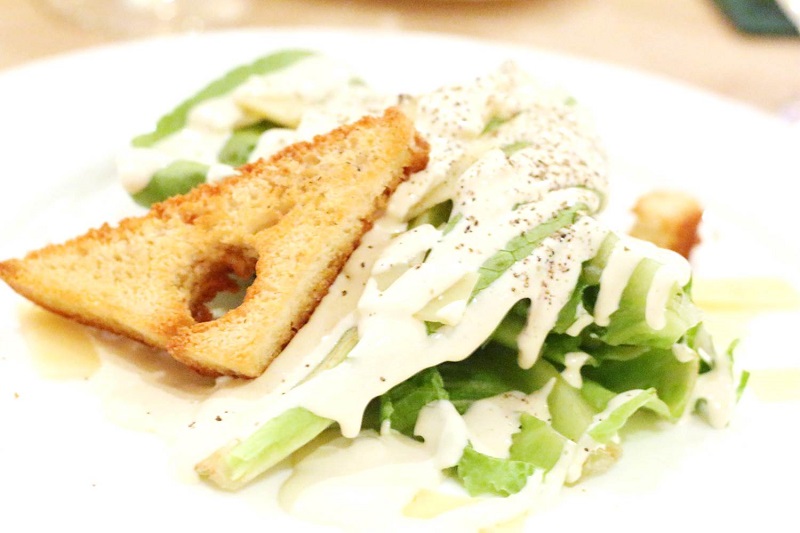 For our main course, we dined on Grilled Filet Mignon with Herb boursin & truffle bordelaise, cracked fingerling potatoes, and Snapper with Pan seared tasso & blue crab ragout, sticky grits.
I can't even begin to tell you how delicious the truffle bordelaise was… talk about mouthwatering!!!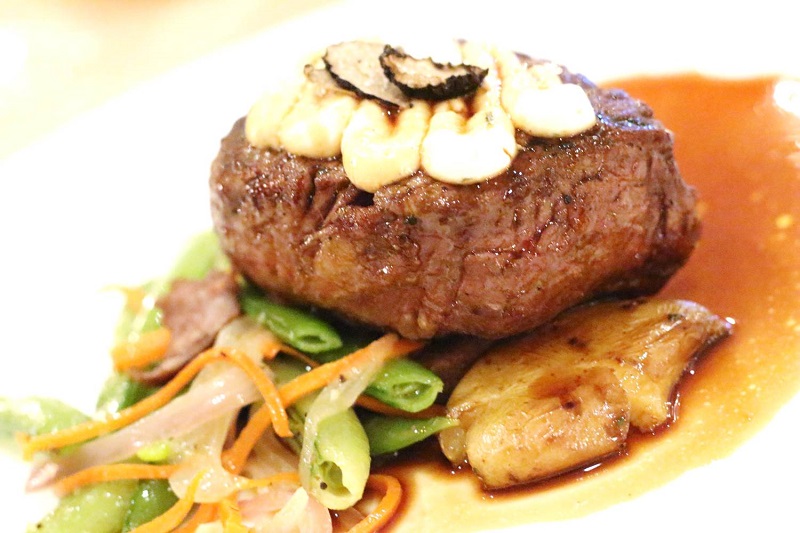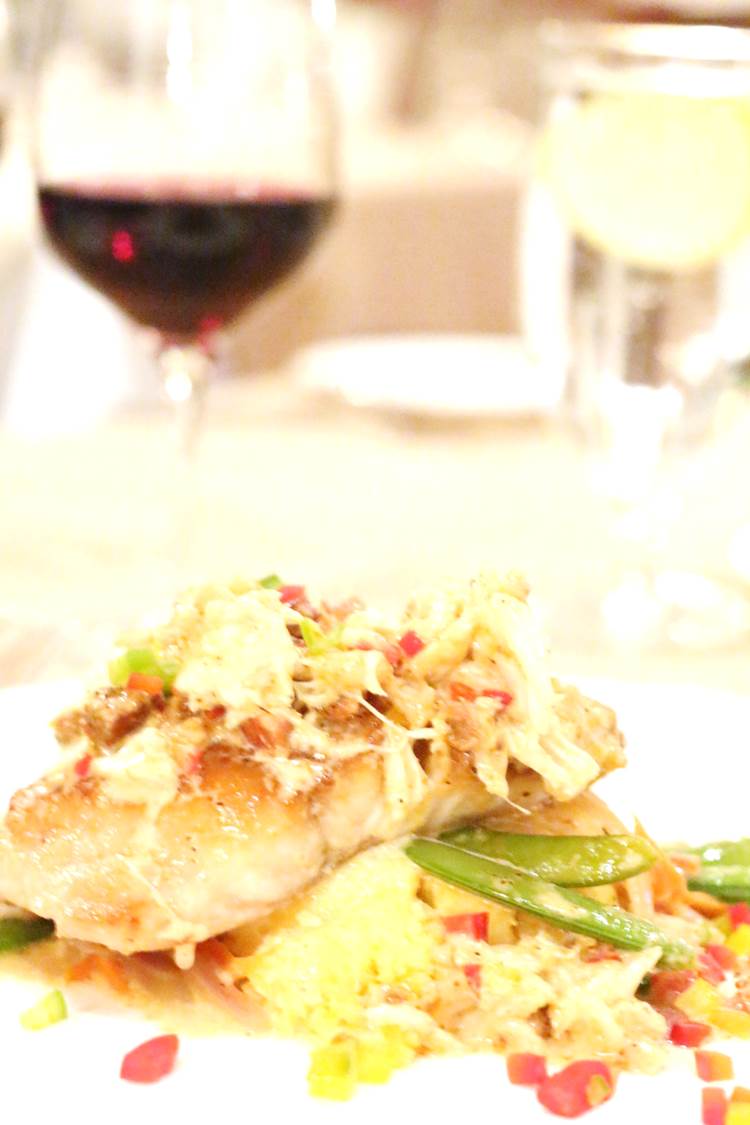 After dinner, Kevin and I took advantage of the warm evening air and took a stroll around the Jekyll Island Club Hotel property.  I loved the historical architecture and the inviting extravagance that this beautiful location provided.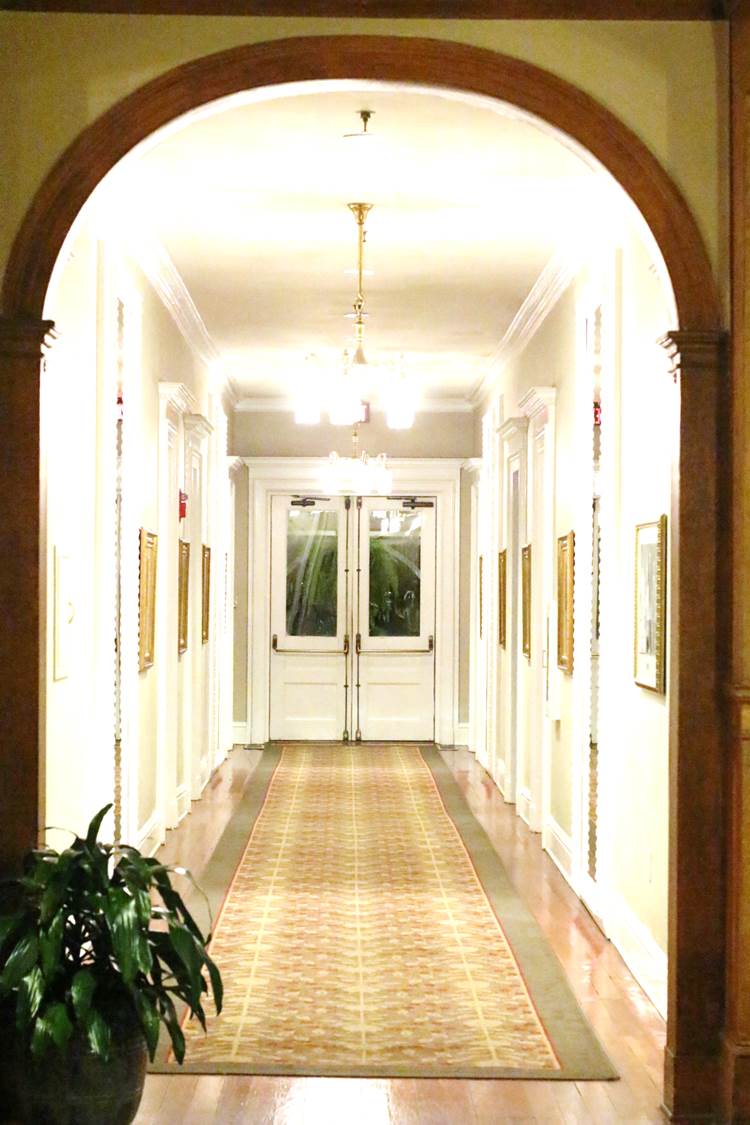 Day 2 – Rain, Rain, Go Away:
Throughout Saturday night the rain poured down on Jekyll Island, and it had no plans to lighten up for our last day on the island.  We woke, dressed, and packed to the sound of rain falling off of the roof of Sans Souci and down the gutters to the first floor.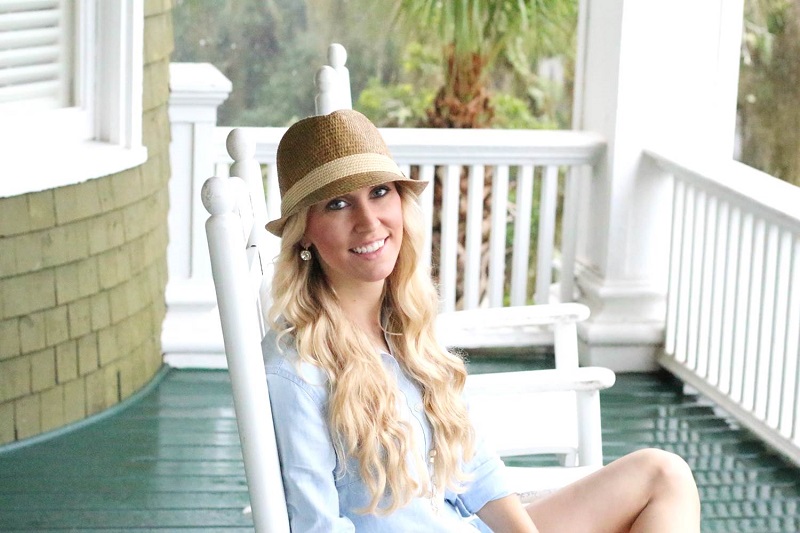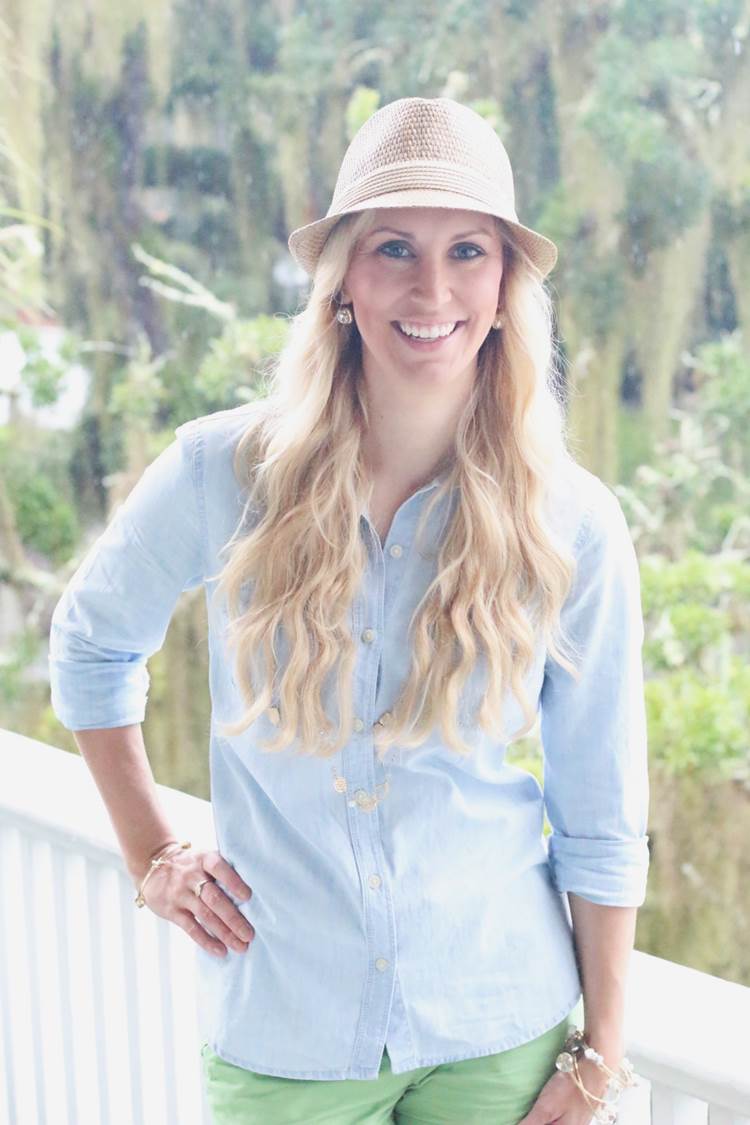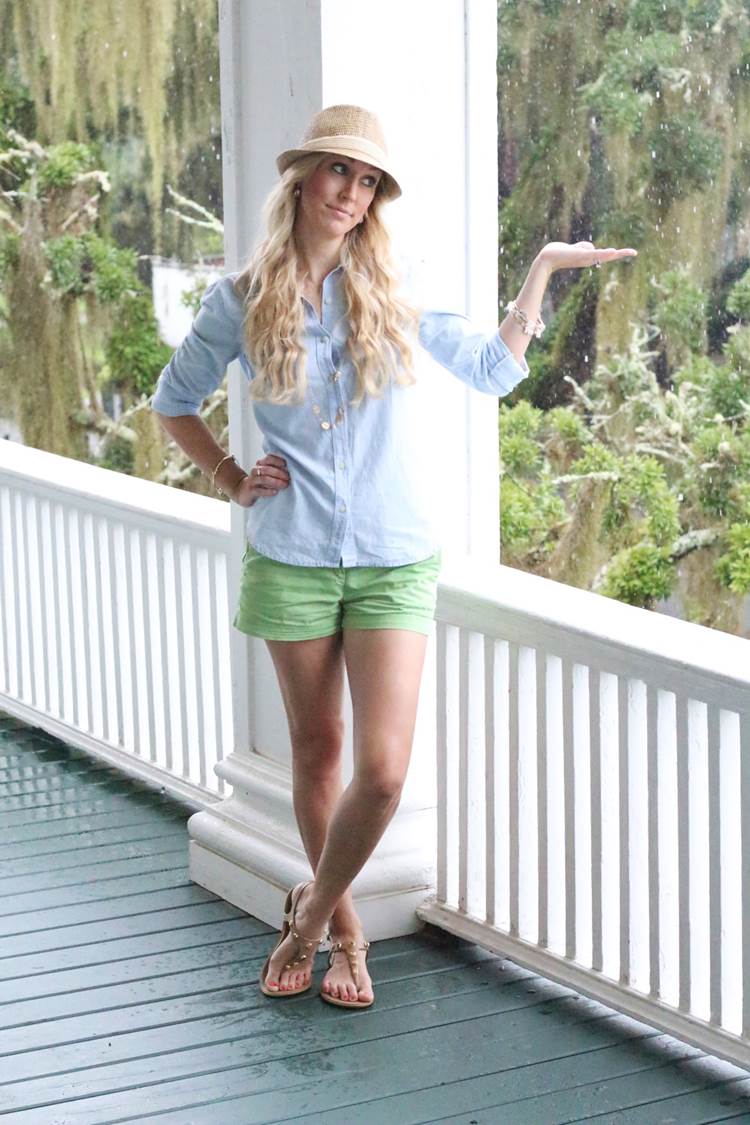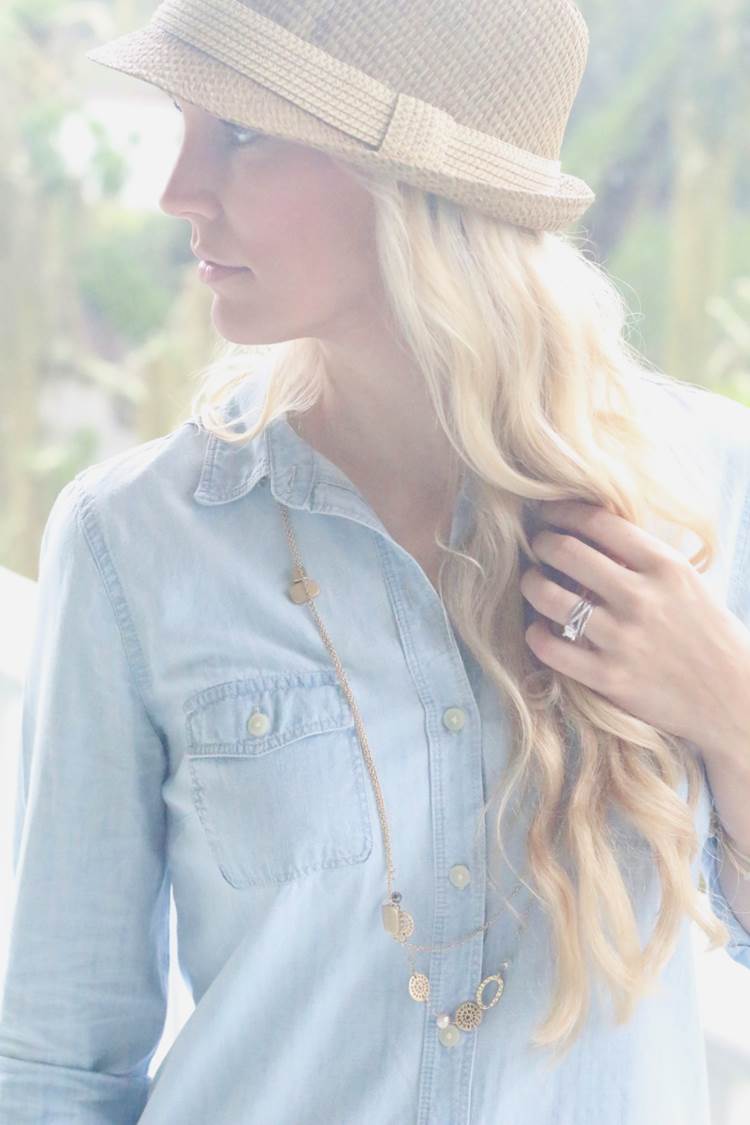 J.Crew Shorts  ♦  Jean Button Down  ♦  Cokie Oka-B Sandals  ♦  Fedora
---
While we had planned to ride our bikes on Sunday to explore the many trails of the island and check out the Georgia Sea Turtle Center, our plans were fruitless with the downpour, so we opted for dodging raindrops and heading over to The Rah Bar which is the much more casual sister restaurant to Latitude 31.
We decided it wouldn't be an authentic trip to the southern coast if we didn't try some fresh seafood… so we ordered a variety of goodies as we watched the rain fall outside.  During a VERY short break in the weather, I popped out from the covered porch and snagged a couple photos around the dock.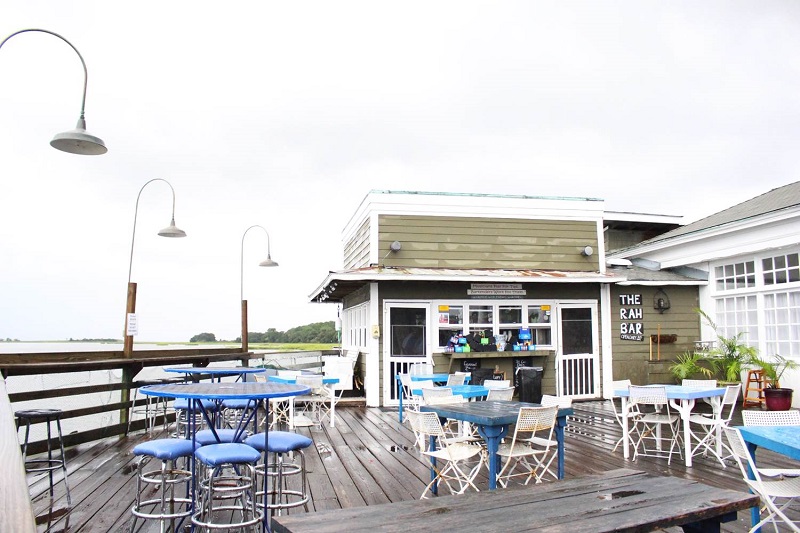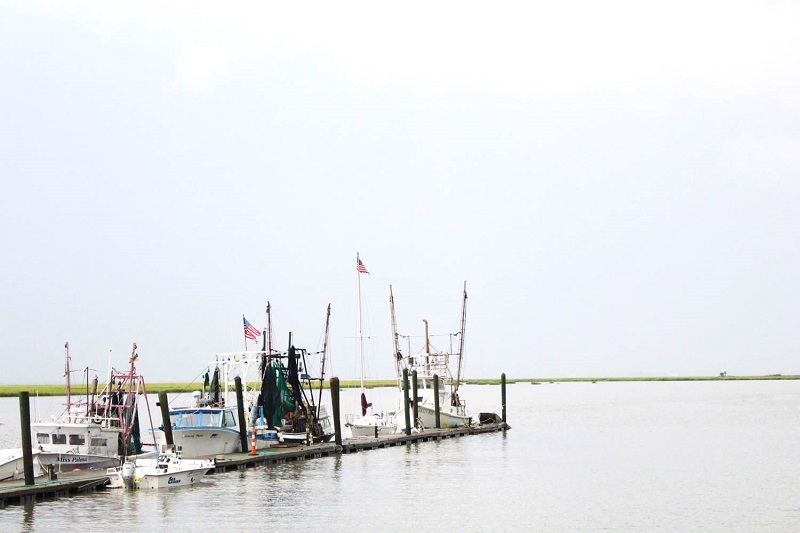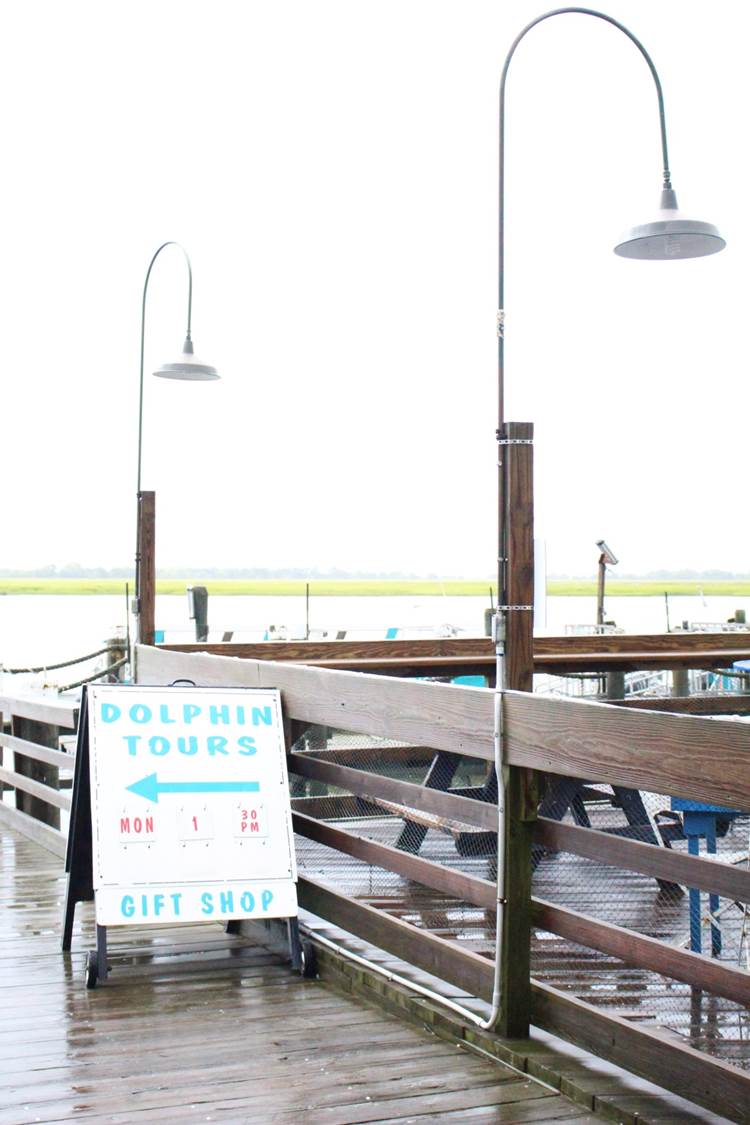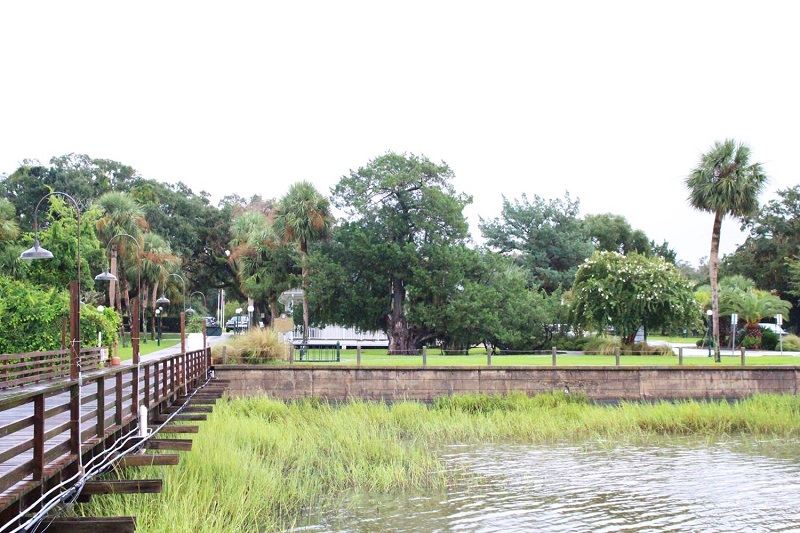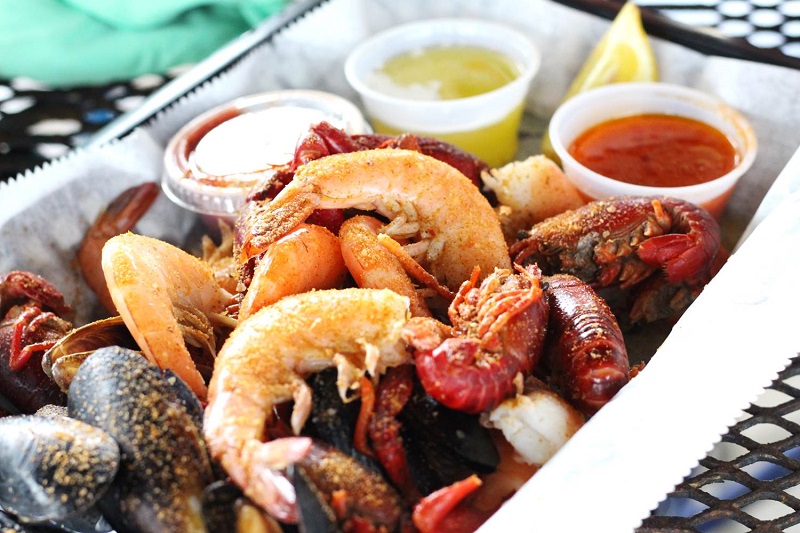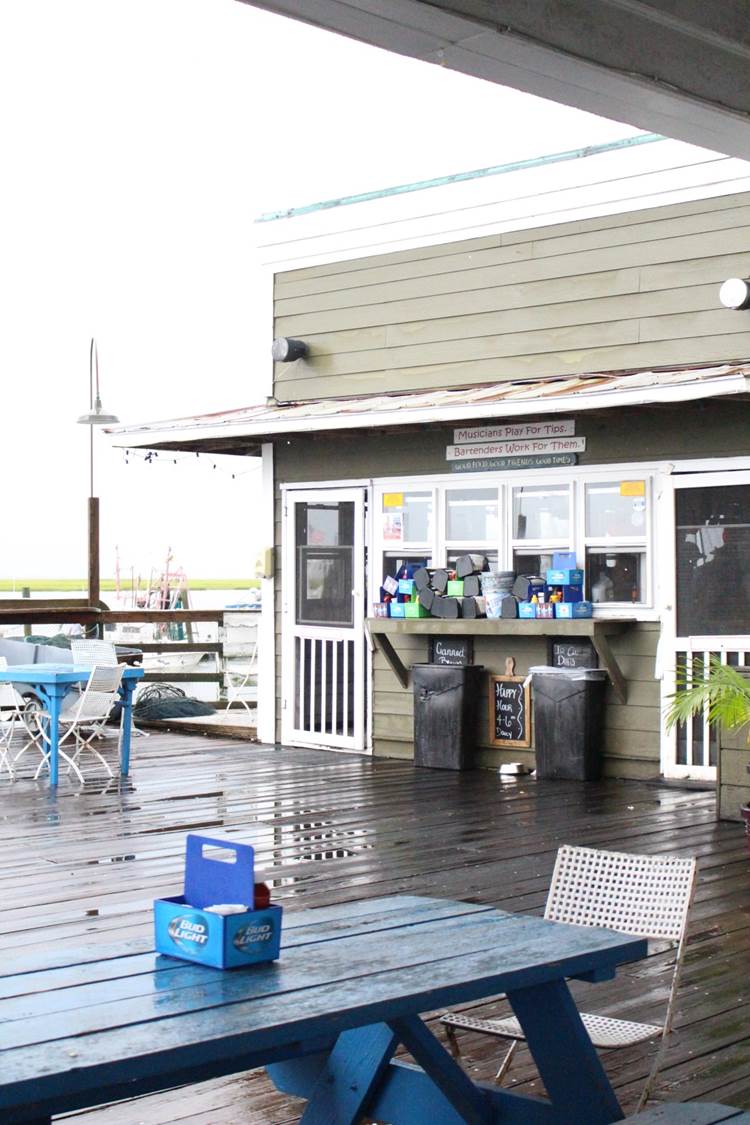 Beyond the rain, our experience at Jekyll Island Club Hotel was impeccable.  The food at every bend was mouthwatering and delectable.. and from the Cafe to the Grand Dining Room to The Rah Bar – we loved it all.  The staff was incredibly friendly and the really conveyed that "Southern Hospitality" so it fits perfectly for the destination.
The Final Verdict:
One of my favorite features of the resort was that regardless of where you went on the property, beyond just the architecture, there was always something to remind you of the history of the place, like the photo below which was the same dock I was enjoying lunch at for the Rah Bar (photographed when it was originally built).
Even our suite had a great photo of the Sans Souci, when it was being built, that featured all the workers and the half-built structure.  While it was just a tad bit creepy for me to have a photo from the 19th century hanging over my bed at night looming down at me, I just had to embrace it as part of the character and charm of this historic retreat 😉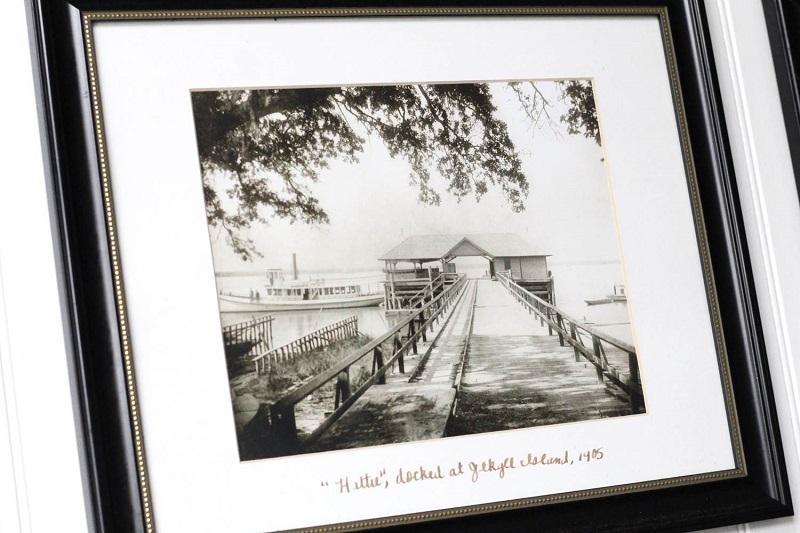 While the rain inhibited my photography of the outdoors a bit since I didn't get to tour the island on our bikes or check out the romantic beaches, Jekyll Island Club Hotel has some great photos of their resort featured in both instagram and facebook (with a 25% fall getaways promo).  And they feature regular posts on their blog as well – including their post today about this weekend's Annual Wild Georgia Shrimp & Grits Festival – so check them out if you want to see more shots of the island!
I'm already looking forward to returning (hopefully during a time with less rain!) – but nevertheless it's an experience that everyone should enjoy.  This is the perfect place for anyone looking for a vacation or a quick getaway that will whisk you away to a place reminiscent of times gone by, but with all the modern amenities you would expect from a Four-Star Resort.
Have you been to Jekyll Island Club Hotel?  What's your favorite thing about the resort?  Share your recommendations below for my next trip!!!

Note:  While the accommodations and some dining experiences were complementary, all thoughts and opinions are my own.  Find out more about the disclaimer for Peachfully Chic here.