Mushroom, Bacon, and Cheese – Oh My!
I hosted a birthday party for Kevin over the weekend and it was so much fun.  I'm planning to share all the details on how I tried to pull off a "manly" themed birthday party featuring an eventful Whiskey "Whisky" Tasting, but in the mean time, I had to share this amazing recipe I stumbled upon from the Housewives of Frederick County.
I'm calling these Supreme Chick-Fil-A Chicken Nuggets because these are the "dressed up" versions of basic Chick-Fil-A Chicken Nuggets party platters. These are your typical chicken nuggets turned up a notch… a supreme version of the basics if you will 😉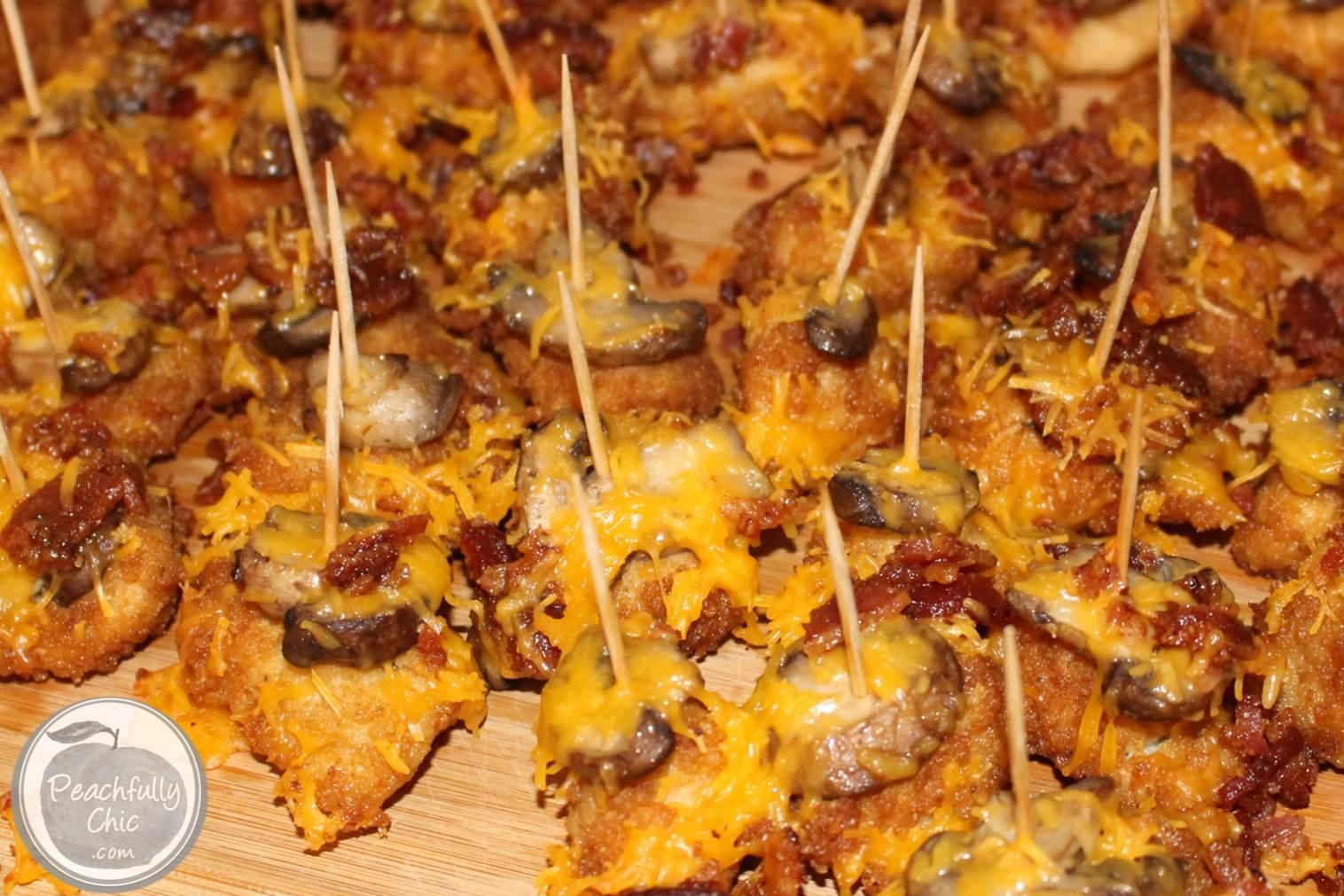 I love them because they are semi-homemade and give me a little more kitchen cred than I usually get, since Kevin spends most of his time toying with new recipes for us to eat.  I love baking… but Kevin's the main chef in our house since I just don't have that much time, so when it came time to plan for party food, I needed to step up my game!
These do take a little more prep time than just picking up a yummy tray full of nuggets for your next party, but by the speed at which these were devoured at Saturday's party, they were definitely a huge hit and well worth it to see how much everyone loved them!
What You'll Need:
Large Party Platter of Chick-Fil-A Chicken Nuggets – Serves 25, Includes 200 Nuggets 
8 ounces of shredded cheddar cheese (or your favorite!)
2 tablespoons of Extra Virgin Olive Oil
2x – 8 ounces of sliced mushrooms
24 ounces of thick cut Wright Natural Hickory Smoked Bacon
Toothpicks (200 count)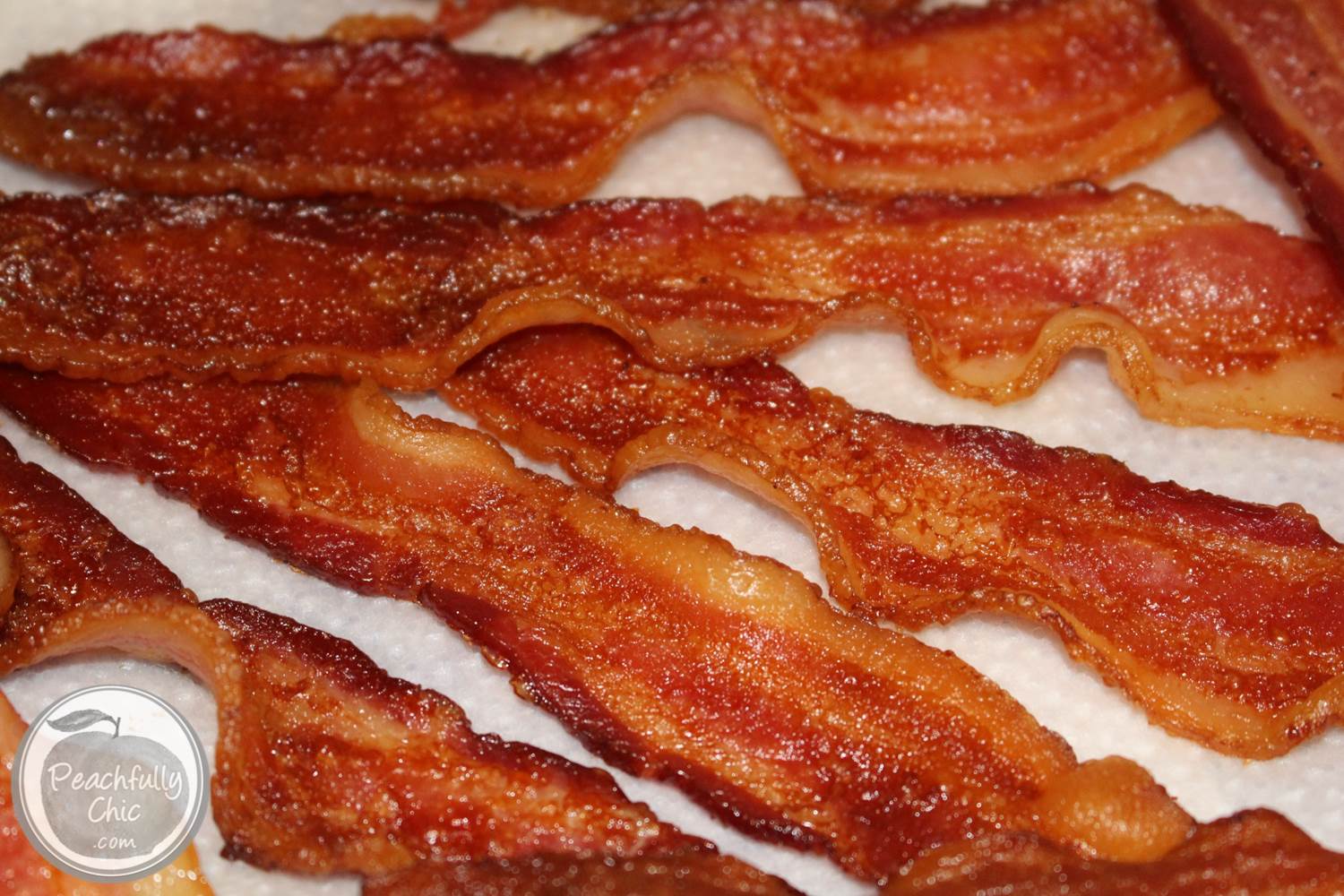 How To Make It:
Preheat the oven to 400º F
On a baking sheet, place the bacon across the pan and cook in the oven for about 15-20 minutes (or until crispy)
Add the EVOO to a sautee pan on your stove, and add in the mushrooms.
Sautee the mushrooms until soft and cooked brown
Drain the mushrooms
On a separate baking sheet, place the Chick-Fil-A chicken nuggets evenly throughout the pan
Add a layer of mushrooms to each nugget
Spear each nugget with a toothpick to hold the mushrooms on top
Once the bacon has been cooked, remove it from the pan and dab with paper towels to absorb some of the grease
Chop the bacon into small bits
Sprinkle cheese and bacon bits evenly over the mushroom nuggets
Bake everything together for 5-10 minutes or until the cheese has melted
Serve and enjoy!

Hope you enjoy these babies as much as we did!  I think it would probably be fun to play around with different types of cheese or even switch up the types of mushrooms, but you really can't go wrong with this switch on the typical Chick-Fil-A chicken nuggets recipe!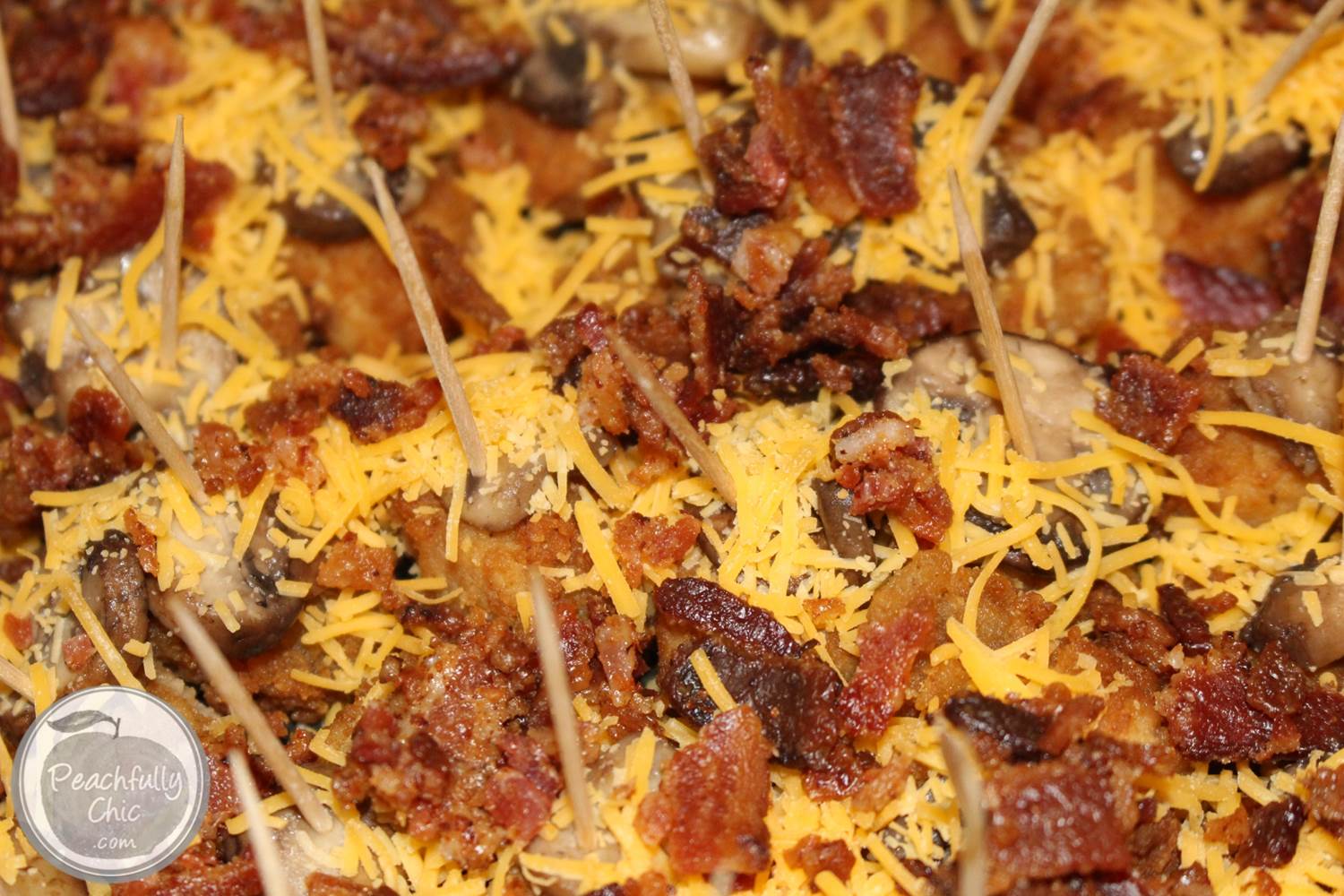 Trust me when I say you'll be glad you made the larger platter…. but I'm sure you could just use a small or medium if needed. Let me know if you have any alternative ideas for other mouth-watering Chick-Fil-A chicken nugget recipes! Enjoy!!!