Blogger Brunch Celebration at Foster (Recap 1):
I'm so excited that the month of May marks Peachfully Chic's first birthday!  I thought about how much I enjoy learning life-hacks, and last year I decided to start blogging because I wanted to share all the fun tips and tricks that I've found make my life happier and more positive.  I had no idea that when I decided to start blogging, that I would unwittingly be introduced to some of the most fantastic blogger community!
In celebration of Peachfully Chic's first birthday, I decided to throw a fun little blogger brunch for some of the fabulous bloggers I've met over the last year who have provided so much advice and inspiration as I started Peachfully Chic.
Here's a recap of the day's festivities at Foster Atlanta.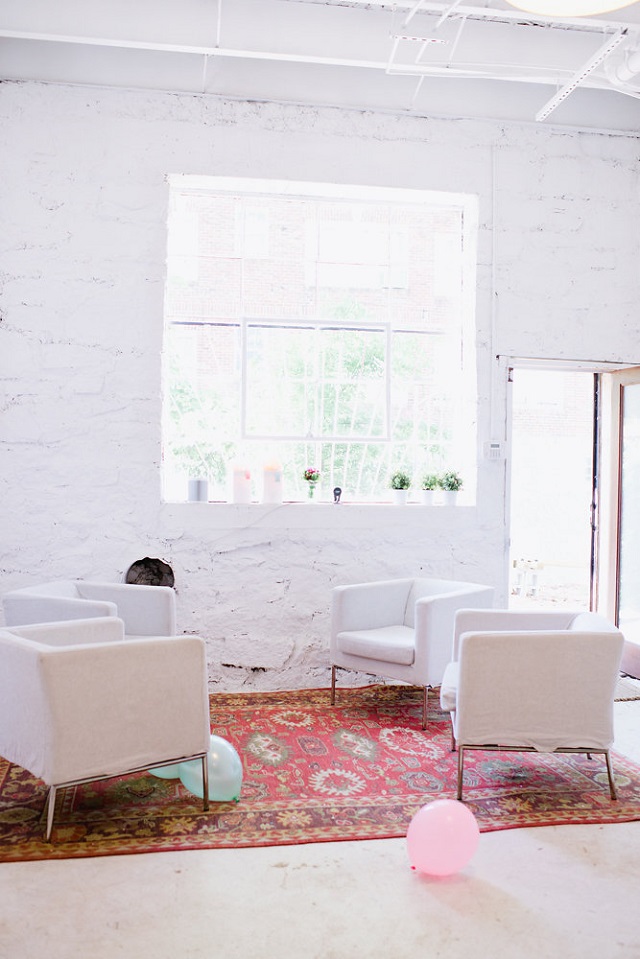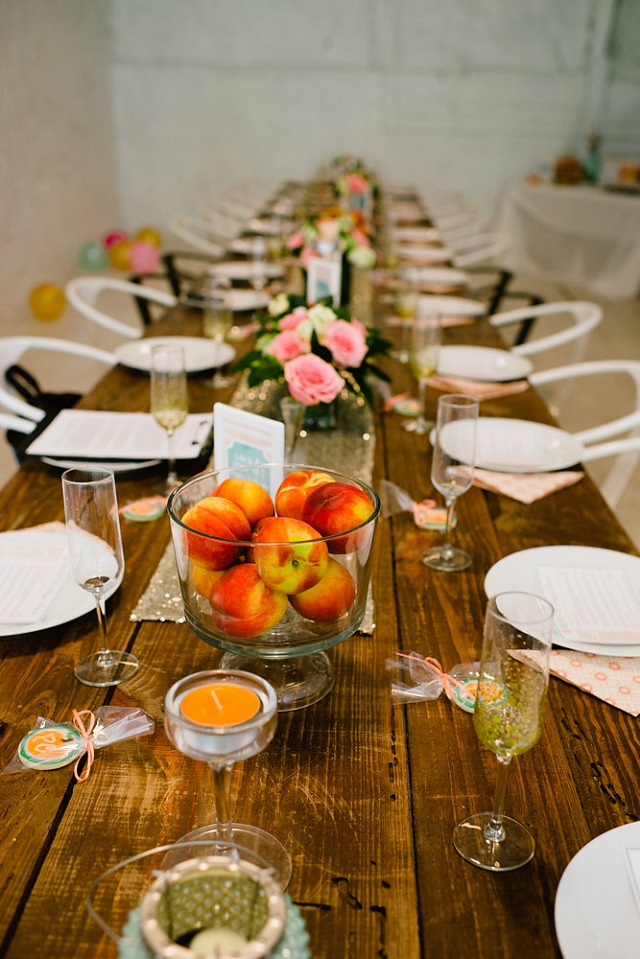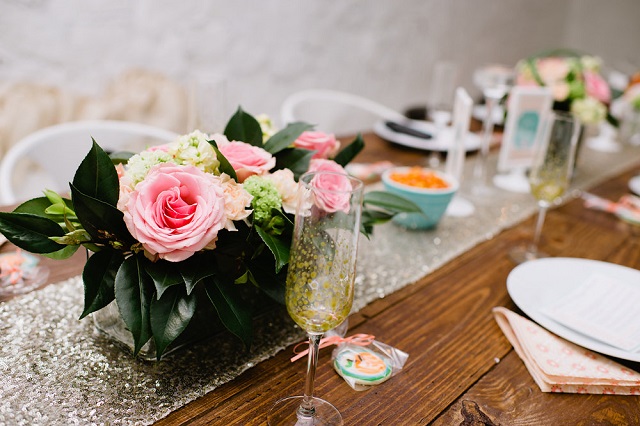 Bites:
All the beautiful cupcakes came from CamiCakes Cupcakes.  Although CamiCakes has five physical locations throughout the south, they now ship nationwide, so it's easy to have these tasty treats anywhere 😉
Food was sponsored by The Sweet Trend, which featured a super delicious French Toast Casserole and fruit that everyone raved over!  The Sweet Trend is known for creating sweet or salty table displays, but I worked with them to create something perfect for the brunch that everyone would enjoy.
….Also, if you notice there are some adorable little "PC" logo'd cookies all over the pics of the table, those were from The Sweet Trend as well (and definitely one of my favorites!) – not just perfect for the theme but they were so yummy too!
Sips:
Changing it up from a typical mimosa brunch, we spiked it up a little with Vixen Vodka for everyone to mix with orange juice or any of the many flavors of Onli Beverages!
If you're not familiar with Vixen Vodka you should be… it's a great brand for women by women.  You can read their story here about how they were founded after a weekend trip to St. Simon's Island and find more recipes here.  I love that the Vixen Vodka anthem is to be "a Warrior in Stilettos".
What better way to celebrate with all these great female bloggers than with a vodka made with women in mind?
And all the Onli beverages were a huge hit!   My favorite Onli was the Hibiscus Pomegranate Aronia… but with more than eight flavors, plus their new Grapefruit Pomelo & Peach flavor, you can't really go wrong with any of them.  If you like sparkling waters, you should check out Onli.  And even if you don't, you might be surprised… it's so refreshing and light.  Perfect for summer!
If you're interested in learning to make a DIY Bunting Banner for your next event, you can see all the materials and step-by-step instructions over on my latest Craft Box Girls DIY post!  😉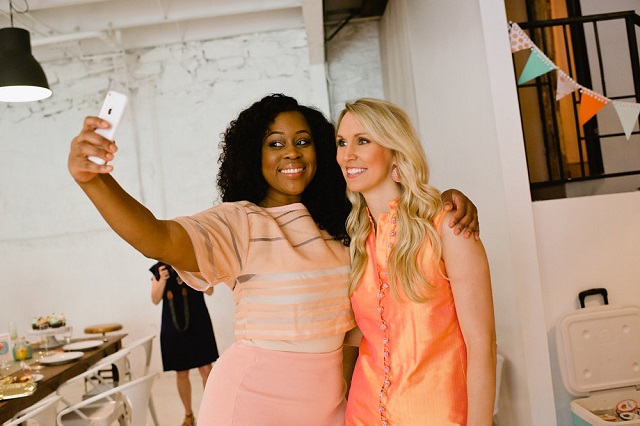 Bloggers and PR Firms – Best Practices:
We featured two wonderful guest speakers, Tori Allen from Tori Allen PR and Erica Dias at The B Firm PR, that shared best practices for bloggers working with PR Firms.
Takeaways Included:
Tips from Tori Allen, Tori Allen PR Firm
Always let the publicist know the timeline for when you plan to run your blog post or social media. The publicist usually has to keep the client updated on these things and it gets tricky to say "any day now" over and over. If you plan for it to be in a month, that's fine, just be upfront about it.
"Thank you" is the most forgotten phrase in our industry. Always be gracious of an opportunity with a publicist and hopefully that publicist returns the favor!
When attending a media dinner with a plus one, remind your guest to post to their social media as well. The extra impressions will help the publicist justify the night of free food and beverage, and also shows your guest was grateful for the complimentary meal
If a publicist is stressed out and freaking out at you, just remember that we have to answer to a client who helps to pay our salary. Don't take it personally – just remember the have a job to do.
Never be afraid to tell a publicist if you were dissatisfied with an experience – whether it was dinner, a workout or a free item. They need to know these things to tell the client for improvement!
♦ ♦ ♦
Please send event recaps within 24-48 hours after publicist event that you are invited to attend.
Maintain current content on your blog.
When expecting products from our clients brands, be able to provide site analytics (ie: pageviews per month, etc).
Do-It-Yourself Inspiration Station – Coaster Set:
Peachfully Chic was started to share inspiration on DIY, style, entertaining, fitness, dining and more…
…So in the spirit of sharing some DIY inspiration, I wanted to feature a craft at the brunch that would allow everyone to have an interactive experience and take something fun home!
I set up a craft station with all the tools needed to create a custom set of 4 DIY coasters!  I'll be sharing the step-by-step instructions later next week – so don't forget to come back and find out out easy it was!!

Sponsors:
I mentioned in some of my most recent DIY how-tos on Decorative Ombre Vases and Gold Confetti Glasses (which were featured at this shindig!)  – that I'm also the new DIY Editor at Craft Box Girls… and CBG gifted canvas tote bags for all of the attendees!
♦ ♦ ♦
A HUGE thank you to ALL of the wonderful sponsors!   It was so much fun working with all these fantastic brands to pull together such a beautiful and fun event!
Tori Allen PR  ♦  The B Firm PR  ♦  The Sweet Trend  ♦  Onli Beverages  ♦  E. Vincent Floral Design   ♦  Vixen Vodka  ♦  Angie Webb Creative   ♦  CamiCakes Cupcakes  ♦  Savannah Bee Company  ♦  Craft Box Girls  ♦  Ukies  ♦  Foster  ♦  May Designs  ♦  Sage Clothing ♦  Revive Bath & Body  ♦  Pink Barre  ♦  Tieks  ♦  Buoy Tags  ♦  Terranova

Style:
I also have to share with you that beyond Ukies being a wonderful sponsor of the event, they are known as the "most comfortable heel" and I had the privilege of trying them out for the entire event!  (I also wore them to the Tod's Grand Opening Event last week too!)
I wore the Paris shoe in Blush Nude Nappa paired with the perfectly peachy custom-made shift I picked up at a local thrift store earlier in the year and bangles & earrings from H&M.
EXCITING NEWS!!!
I'll be doing a complete review of Ukies AND a giving away a pair to one lucky Peachfully Chic fan… so make sure you come back to read the full scoop next week!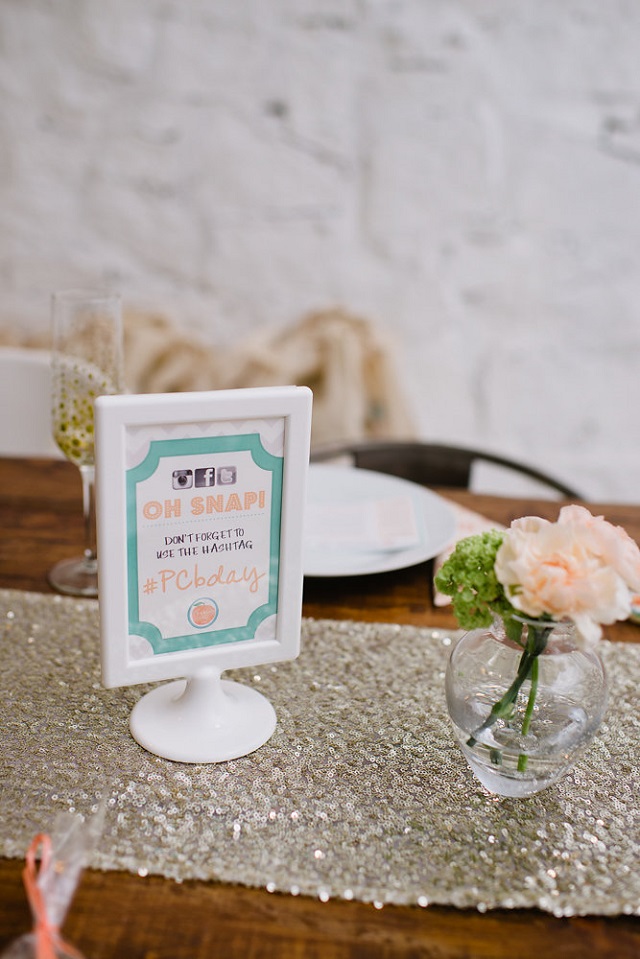 To see more fun pics from everyone at the event…. check out #PCbday on social media!
And of course… thanks to all the fabulous bloggers in attendance:
Styled MD
Probably Polkadots
Peachtree Roadies
The B Firm PR
Tori Allen PR
Kale Me Kelly
Eating With Erica
My Friend Court
Sweets By Chan
Ally McGlam
City Peach
Nicole to the Nines
Jersey Peach Designs
Cha Cha Ria
All of the photos above are from Angie Webb Creative, but I took a ton on  my camera… and even a little video, so hopefully I'll be sharing those soon too to give you even more of an inside look at the big day!
Thanks again to everyone for sharing a wonderful first year with Peachfully Chic!  Looking forward to another fabulous year of blogging on all things inspirational and positive…
Until next time….